Yummy Greek Nachos with Tzatziki Drizzle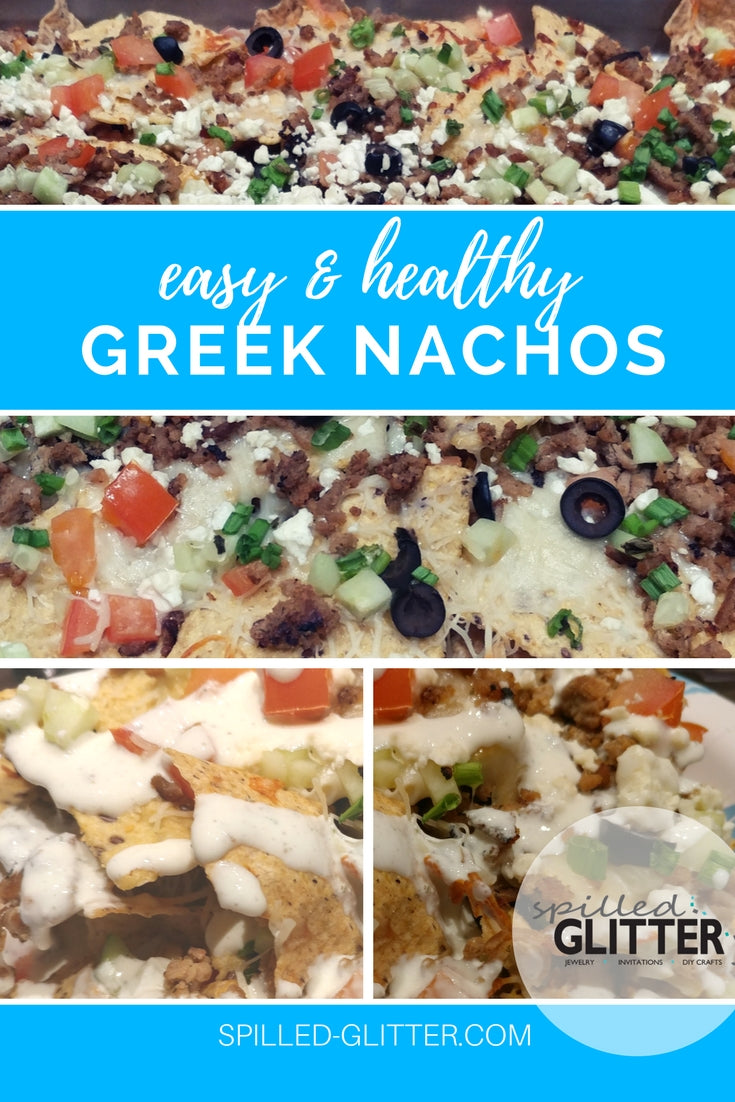 If you were to ask my husband what he'd like for dinner, his response would likely consist of burgers, wings or brats – and while it's hard to say that I want to eat those 3 items all in one week – I do make a point of including one "bar food" type meal on our weekly menu. We have always enjoyed the indulgent, fried, bad-for-you-tasting food from local dive bars and small family owned restaurants, and I'm always on the hunt for new ways to re-create those flavors (and spare some calories wherever I can!).
I recently decided I wouldn't be continuing my subscription to Cooking Light Magazine because the recipes over the past few months have become what I've so lovingly termed "too grassy or earthy" for us – everything is more leafy, and consists of things I've never heard of, or can't find at my local grocery store. Besides, I told myself, I use Pinterest to find most of my recipes and plan our weekly menus anyway, and it's free!
So as chance would have it, it was during this same week that I had made the decision to let my subscription lapse that our newest magazine arrived. Just like previous months, it was chuck full of those earthy, grassy recipes that I knew my family wouldn't eat. But what is this?! ONE recipe actually stood out. It stood out so much, I had to tear it out for fear that I'd throw the rest of the book in the recycle bin and forget it was in there! This gem was none other than the Loaded Greek Feta Fries recipe. (I drooled over the picture in the recipe, it's worth checking out!) However this recipe calls for fries made in an air fryer, and today I'm out of potatoes…and don't have rotisserie chicken breasts handy…or fresh oregano, or fresh parsley, or pre-made Tzatziki.
Still wanting something Greek and delicious, I improvised with ingredients I had on hand, and made these wonderful Greek Nachos. They looked and tasted like they came out of a five-star restaurant. My family absolutely loved it, and I'm sure yours will too. Let me know what you think!
(All ingredients can be purchased at Aldi too!)
Greek Nachos with Tzatziki Drizzle
Print recipe
| | |
| --- | --- |
| Serves | 5 |
| Prep time | 20 minutes |
| Cook time | 15 minutes |
| Total time | 35 minutes |
| Allergy | Egg, Milk, Wheat |
| Dietary | Diabetic |
| Meal type | Appetizer, Main Dish, Snack |
| Misc | Child Friendly |
| Occasion | Barbecue, Casual Party |
Ingredients
1 tablespoon Grape Seed Oil or other cooking oil (Grape seed oil has a higher smoke point than olive)
1lb Lean Ground Turkey
1 teaspoon Minced garlic (eyeball it!)
1 Large Beefeater Style Tomato
1 teaspoon Onion Powder (eyeball it!)
1 Medium Cucumber (Peeled)
1 bunch Green Onions/Scallions
1 packet Feta Cheese
2 cups Shredded Mozzerella Cheese
1 teaspoon Dill (eyeball it!)
1/4 teaspoon Black Pepper (eyeball it!)
1 cup Greek Yogurt or Sour Cream
1 bag Multi-Grain Tortilla Chips
1 Small Can Sliced Olives
Note
*I should note that I eyeball almost all seasonings anytime I cook, even if I'm following someone's recipe. You should also use them to your own taste preferences. If you love garlic, use more!
Directions
Meat
Step 1
Preheat oven to 350. Place oil in a non-stick pan on the stove on medium heat. Once warm, add turkey.
Step 2
Add 1 teaspoon minced garlic, 1 teaspoon onion powder, black pepper, and 1/2 teaspoon dill. Cook until brown.
Toppings
Step 3
While meat is browning, Skin cucumber, and cut in half. Dice one half and set aside.
Step 4
Dice tomato, slice scallions, and chop olives if necessary. Set aside until meat is ready.
Tzatziki Drizzle
Step 5
In food processor, blend greek yogurt/sour cream with remaining cucumber, garlic, onion powder, and dill. Blend until creamy.
Assembly
Step 6
Layer tortilla chips in an evenly on a sheet pan. Add 1/2 of all of the following: mozzarella cheese, turkey, diced tomatoes, diced cucumber, olives, and feta. Add a second layer of tortilla chips and repeat above - topping all with scallions when finished.
Bake & Serve
Step 7
Bake at 350 for 10-12 minutes until cheese is melted. Drizzle Tzatziki over the top and enjoy!