Drunk in Love with Drunk Elephant's Skincare Products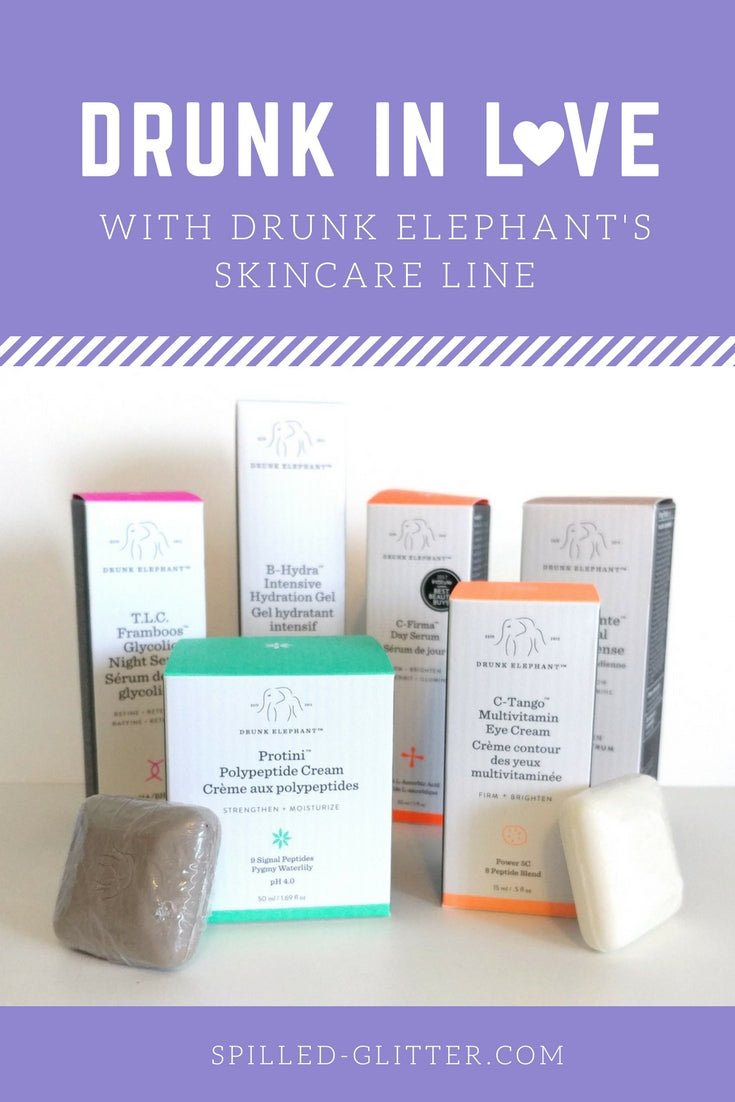 One of my co-workers has amazing skin. You know the look. Glowy, luscious, dewy, clear, pore-less, beautiful skin. During a trip to one of our sister companies back in November last year, she had asked me what I used for my skincare routine. My answer wasn't the best – and it was one I would overthink for months to come. "Well," I said. "I use a combination of things that probably aren't the best, but I've done it for years and it seems to work ok for me."
At that time, my daytime skincare routine consisted of the following:
Cetaphil to remove eye makeup.
Ivory bar soap with a sponge facial loofah to wash my face (eek. I know! Bar soap AND I was exfoliating daily because I thought I needed to since I was so oily!)
Clinqiue Even Better Eyes Dark Circle Corrector
Clinique City Block Sheer tinted sunscreen
Laura Mercier Oil Free Foundation Primer
Clinique Dramatically Different Moisturizing lotion + OR Clinique Smart Custom Repair Moisturizer mixed with a drop of Clinque BIY (Blend it yourself) Foundation pigment drops
Clinique Chubby in the nude foundation stick to fix any specific areas of concern
Laura Mercier Translucent Loose Setting powder
Blush (usually Clinique)
Eyeshadow (usually Naked)
and Cliniuqe Ultimate Black Mascara (you will have to pry this out of my cold dead hands. I will never give this mascara up!)
My night time routine consisted of:
Probably a make-up remover cloth instead of a full wash or cetaphil as a face wash
Clinique Smart Custom Repair Night
All of these are truly great products, so by no means am I saying otherwise. I've used most of them religiously for several years now, and they've done me right for a long, long time (some since my teens!).
But…what was happening with my skin was really confusing and frustrating. In the morning when I left the house, I looked great. My skin felt clean and fresh – maybe slightly cakey with my setting powder, but overall pretty great. By mid-day, I was a complete grease pit. I literally needed to wash my face by 2pm because I was so oily. Two to three clearskin oil absorbing sheets full greasy. And it could have been the dead of winter – didn't matter. My skin was over producing oil as if it were to be put in barrels and sold by Shell Oil.
So after she asked this question, I started asking myself "Is what I've always done, still the best, or am I doing it just because I've always done it?" And the answer turned out to be an alarming NO.
Back to my co-worker. She soon shared with me after our trip that she had found these really interesting products, called Drunk Elephant, that were expensive but "SO WORTH IT". She said, "It's weird, I never thought I should be putting oil on my face, that was always something I thought I needed LESS of. But it turns out my skin feels so much healthier!" She of course told me to try them, and I of course ignored it…at least for a while.
Fast forward to this April. Another trip. I'm sitting next to her at a conference, admiring her amazing GLOW. You know, that glow that is healthy, fresh, and amazingly natural looking? No contouring powder can do what your natural skin can when it's healthy. That's for sure. So I asked her if she was still using that "weird elephant stuff" for her skin and complimented her glow. Do you know what she told me? "Yes" she said. And then she dropped the bomb. SHE WASN'T WEARING FOUNDATION! She was wearing no make up other than a bit of mascara and some lip gloss. WHAT?! I eagerly asked her to write down everything she was using, and got on Amazon.com post haste.
She said "Try that duo package, see what you think!" so I did. It was the Rise + Glow duo ($23) and the Night Bright duo ($28). 4 products, in a travel size cute little tube, for about $50 with free 2 day shipping for prime members. I'm on it. Ordered them and eagerly awaited their arrival.
Drunk Elephant believes that when it comes to skin care ingredients, less is more. They claim to be something called "clean clinical", meaning that their products are as effective as clinical brands, but as safe as natural brands. They tout being free of the "Suspicious 6" which are six ingredients known to be toxic, irritants, disruptors and allergic sensitizers that are found in most products on the market today.
I got them on a Monday night, around 6pm, so I decided I should start with the Night Bright duo since I'd be washing up for bed soon. WOW. In this combo pack comes a beautifully balanced serum – yes serum…not heavy, creamy, or drenchy feeling like I've come to expect a night care product. It's called T.L.C. Framboos™ Glycolic Night Serum and it made my skin feel like it was "working on it" right away, but didn't burn or sting, or make my skin feel tight and dry. The other product was the Drunk Elephant's famous Virgin Marula Luxury Facial Oil – which says to use only on dry areas, so I put it around the front of my ears and around my mouth. The only two places that are ever truly dry on my face. Went to bed.
The next morning I woke up and did my usual shower routine, but added the Rise + Glow duo instead of my other skincare routine. This threw a bit of a wrench in my morning because I was used to putting drops of blend it yourself pigment into my moisturizer as a foundation…but I worked through it. The first product is a vitamin c packed C-Firma™ Day Serum – yes, another serum! It seemed oily at first but my skin actually absorbed it and then it was like it was gone. Next you apply a weird gel called B-Hydra™ Intensive Hydration Gel which claims to boost brightness and texture while hydrating. Sounds intriguing! I chose to add a bit of pigment to this instead of my regular moisturizer and used that as a light foundation – powdered, and finished the rest of my make up. You know what happened the rest of the day? Nothing. I wasn't oily, didn't feel the urge to wipe my face off in the girls room, and didn't even think about my face being greasy all day long.
The next day, after following the night routine again, do you know what I did? I went to the office WITHOUT foundation or powder! My skin felt and looked GREAT! And I do have to tell you, healthy skin feels different. It also makes YOU FEEL different. Confident in your own, clean skin – which is a great kind of feeling.
Fast forward one more time – After 4 days I was hooked, and I ordered full sizes of my favorite DE products, and added a few that I thought I'd also love.
My Drunk Elephant Skincare Favorites, pictured above from L to R:
If you've got skincare concerns, or if you want to get out of your foundation and into healthy skin, I highly recommend giving those duo's a try. They come from the DE team on Amazon, so you can get that quick shopping gratification and try them in a hurry! I've compared prices recently from Amazon to the DE site for the full size products, and chose to order from the DE site directly because it was a bit more expensive on Amazon vs. DE…(which seemed to be a good choice because I got freebies too!) Most of their line is available on Amazon though.
Let me know what you think!
*This post is in no way paid for or in promotion of Drunk Elephant products. My opinions are strictly my own. I do still believe Clinique is a great choice for both make up and skin care, I just needed something different now than what I did when I was younger, and I'm happy I made the switch!