Touchdown Football Meatloaf Recipe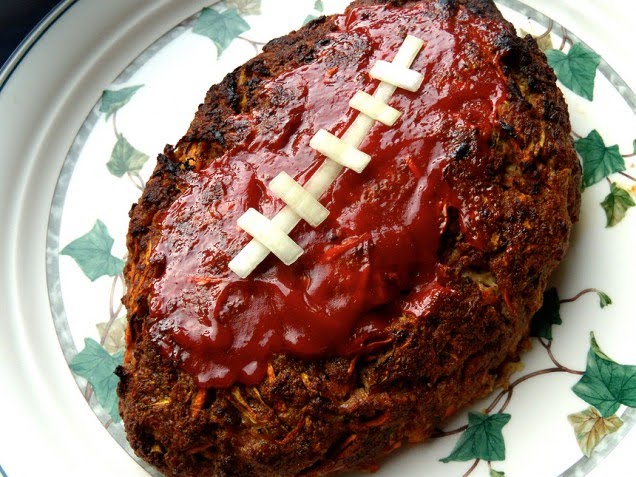 Touchdown Meatloaf
Print recipe
| | |
| --- | --- |
| Serves | 8 |
| Allergy | Egg |
| Meal type | Appetizer, Lunch, Main Dish |
| Misc | Child Friendly, Freezable, Gourmet, Pre-preparable, Serve Hot |
| Website | iVillage |
Children can help crumble the bread into crumbs, measure out the horseradish and Worcestershire sauce and decorate the top with the ketchup and onions. Recipe Courtesy of iVillage, via Sharon Bowers
Ingredients
1lb Ground Beef
1/2 cup Breadcrumbs
1 Small Carrot (Grated)
1 Small Zucchini (Grated)
1 Small Onion (Finely Chopped)
1 Egg
3 tablespoons Worcestershire Sauce
2 tablespoons Prepared Horseradish
1 teaspoon Salt
Ketchup - For Decoration
Directions
Step 1
Preheat the oven to 350 degrees F and lightly grease a baking sheet.
Step 2
Using your hands, combine all ingredients except ketchup and white onion in a large bowl and mix well. Place the mixture on the baking sheet and mold it into a football shape, making sure to pat down the middle so it's no thicker than the edges.
Step 3
Bake 50 to 60 minutes, until an instant-read thermometer registers 160 degrees F.
Step 4
Remove the meatloaf from the oven and spoon a few tablespoons ketchup in the center to make a base for the football's "laces." Slice a thick ring from the center of the white onion, peel off a strand to form the anchor of the lacing and lay the piece over the ketchup. Then cut shorter pieces of white onion to make the lacing's crosshatches.
Step 5
Serve warm or at room temperature.