Second Week of March Weekly Planner Spread & Sparking Joy in the Closet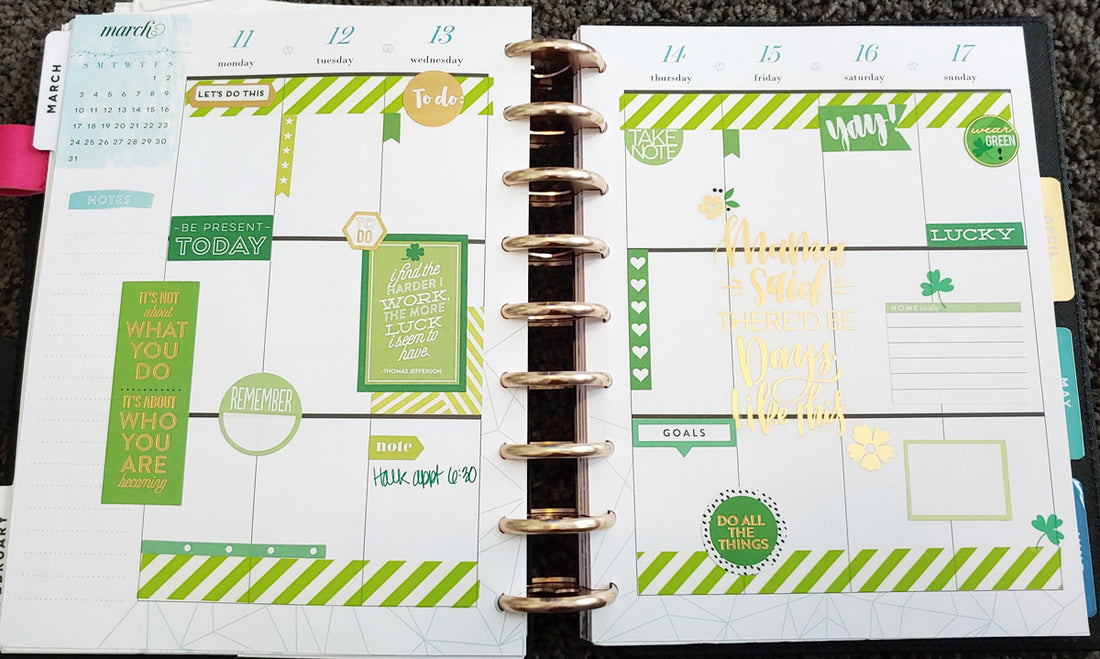 Welcome to St. Patrick's Day Week!
I've got quite a busy week planned this week, and I'm so excited! My son is on Spring Break this week, so we're going to make the best of it and head out this Thursday for our Lake House. That means an incredibly busy work week – to get it all in before I leave. But it's been a busy weekend, that's for sure! Spring always brings a big list of to-do's in order to get ready for warmer months. That includes not only putting out weed killer, but also the dreaded cleaning season.
In preparation for Spring Cleaning season, I took a crazy step and Marie Kondo'd the heck out of my dresser and closet. I'm honestly surprised how it feels truly AMAZING to know exactly what I have and where it is now. If you've not yet given it a try, I highly recommend it!
Once I took everything out of my closet, it looked like a tornado had hit! I literally had no idea how much crap I had crammed in there! Unfortunately I don't have a "before" and after picture of the closet, but I do have this gem:
I got rid of SO MUCH that I didn't ever wear, and things that didn't fit anymore, and it feels so great to have SPACE now. I usually donate my clothes and shoes to places that cater to helping young and mistreated women and mothers get back on their feet – as well as friends who could use an extra pair of barely worn somethings. Marie Kondo really has something to this "Sparking Joy" thing. It definitely works! Who wants to go next? 🙂
This week's Happy Planner Weekly spread is full of shamrocks and all things green
This version is the minimal version prior to me really "glamming it up". It uses striped washi tape that I love but don't have enough use for, as well as a mix of stickers found in several Create 365 Happy Planner sticker packs. This Friday represents one year anniversary of my Grandmother's passing, so that is why the day is almost fully covered with the "Momma said there'd be days like this" sticker. We'll be spending time with family and enjoying ourselves at the Lake that day – and Grandma would absolutely love that.
After taking a look at everything, I felt like it needed more, so I took it a step further and added more stickers and "flair" if you will. I ended up with this version:
Enjoy your week!