Coronavirus Quarantine - Tons of Things to Do While Socially Distanced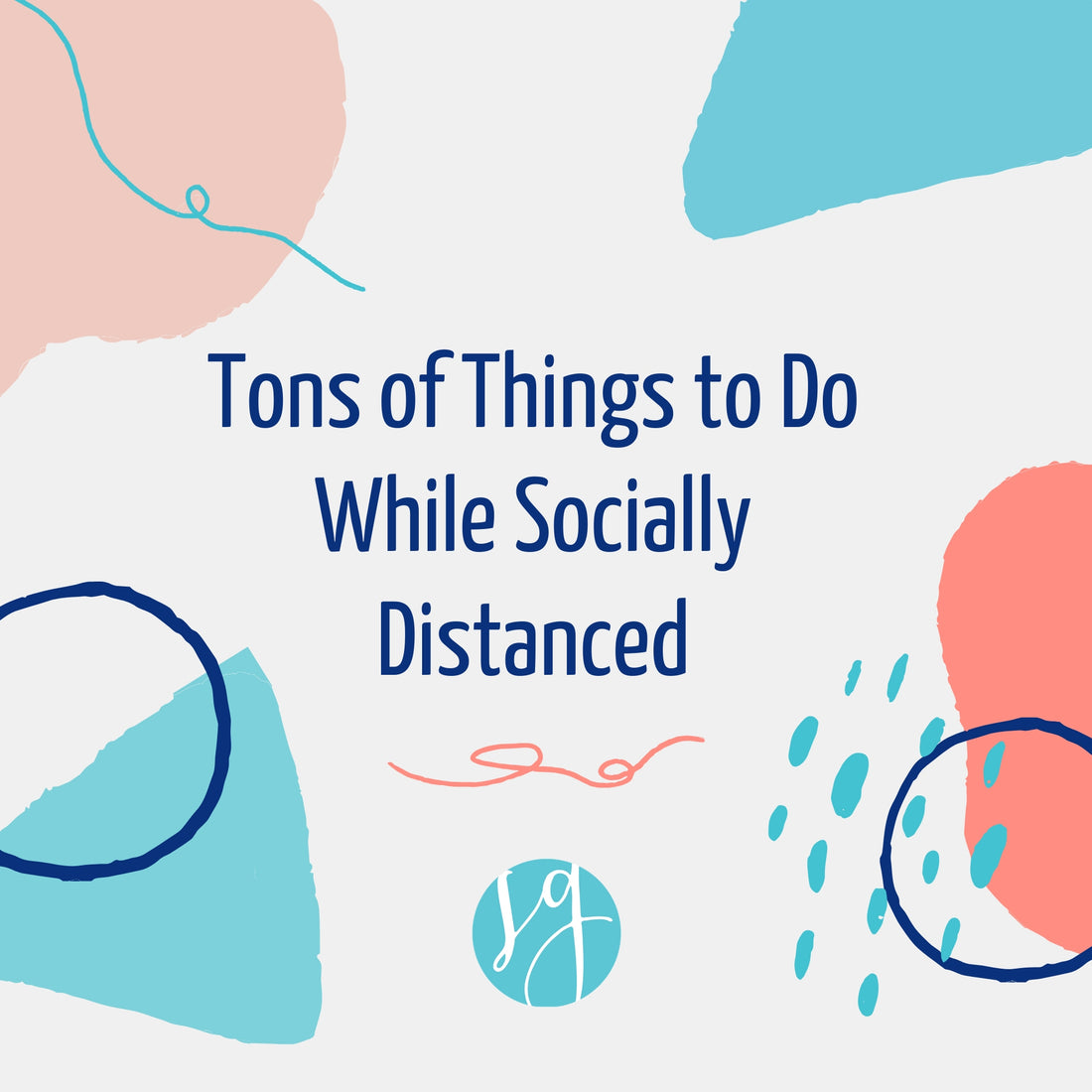 Unless you've been living under a rock (which, if you have, please - stay there!), you've likely heard that many states are now asking their residents to shelter in place - otherwise known as self-quarantine. Being an introvert myself, this really hasn't been much of a problem for me, however many of you don't have a list of a hundred hobbies like I do (queue my own insanity), or aren't used to finding "self-soothing" and relaxing activities at home. With all of our sports, concerts, music festivals, new movies, and other major events cancelled or paused, it's likely that you're left with some free time and not much to do around the house. What to do while stuck at home? We've assembled a list of interesting things you can do - compiled from some of our locations all over the web. Ideas for those with kids, and for those without to help ease your stir craziness and take your mind off of the stress of our current situation with COVID-19 and our healthcare system. If you're without kids, make sure you read that list too, there are tons of ideas for you there too!
25 Things To Do While Quarantined With Children
Complete a puzzle. Puzzles are a great way to spend time with family, talk, and focus on completing a common goal - while being able to watch it's progress. As you finish a puzzle, you will start feeling the satisfaction of getting something done together. The older your children, the higher puzzle piece count we recommend. Spread out on the dining room table and work on it for as long as you need to. Don't have a puzzle? Here are some of my favorites (gender neutral!): Leaves, Books, Succulents, Space.
Bake with the kids! There are endless possibilities here - but we recommend starting with a simple box of cake, cookies or brownies, and letting the kids choose sprinkles, m&m's or other additions to make them fun!

Clean. Yes, this sounds boring. BUT it can be fun if you involve the kids and have them help you with the weird areas in your home. Start with the kids' closets. Clean them like Marie Kondo - does everything in there truly spark joy? If not, donate it. Clean out the basement if you have one. Turn a corner or closet into a reading corner or quiet corner once cleaned!
Binge watch Disney+ or Hulu! Hulu offers a free trial for 30 days. Do you know how many shows you could watch in that time?!
Make Christmas Ornament Gifts - early! Use this amazing tutorial we found on the Crafted Life Blog and fill the ornaments with just about anything! Have the kids color on paper and cut it into strips. Add glitter, rhinestones, paint, anything they want! Allow the kids to truly make the ornaments their own as much as possible. They'll be proud to gift them this holiday season!

Learn a new language. There are tons of apps and services to help with this - we recommend Duolingo, which is simple and easy to learn as you go - and will give you the ability to work with your kids as well.
Write letters or draw pictures to send to family members and friends that you can't see during this time. Then actually send them! They will go a long way in helping to put a smile on someone's face!
Color - and remember, it's not just for the kids! Remember those beautiful mandolin shaped designs in adult coloring books that were popular a few years ago? They're still available, and they STILL help reduce stress! Check out one of our fav coloring books that is inexpensive and beautiful here! If all else fails, you can get this one and just embrace the madness. Just don't let the kids see!

Make a silly workout routine together. Start with jumping jacks - add in running in place, bunny hops, funny dances, etc. Try to write it down and remember it, and then start doing it once a day with the kids. They'll enjoy the memory recall and silliness.
Have an Indoor Camp Out! Push the couches out, bust out the sleeping bags and have an indoor camp out. Add to the party with a fun family movie complete with s'mores and popcorn!
Host a Show or Movie Club. Create a Google doc of shows or movies you're watching and share it among family and friends in their respective households. Host movie chats to discuss aspects of each show or movie like a book club via Facebook or google video calling. If you've got a bigger group - use Zoom Conferencing or Join.me for free!
Make a list of things you're grateful for. We found an adorable free printable on the Crafted Life Blog.
There's no March Madness, so create a "Snack Bracket" like this one from AZ Cooks. Have the kids add their favorites and vote 1x per day.
Create a scavenger hunt. Here's a great one from Innsbrook Resorts.

Here are a few others, 1 indoor and 1 outdoor, though we can't locate the source.

 
Make a list of every adventure you want to go on when the locations re-open to the public. Include the time of the year and the ways in which you'll get there if the locations aren't local.
Bust out the Legos. Build your house inside of your house.
Try to do things with your non-dominant hand for a full day, from writing to brushing your teeth.
Take naps. Loads of naps!
Tour a museum or location virtually. Many museums around the world are letting people take in art and history while practicing social distancing through virtual tours. If that's not desirable, travel abroad on Google Earth!
Paint Your Kid's Easter Baskets - and let the kids help! They'll have so much fun getting their baskets ready for the Easter Bunny (thankfully, he can hop on over to your house without you needing to leave - Bless you Amazon, Target and Walmart warehouse workers putting together our online orders and shipping!) We found another cute tutorial on the Crafted Life Blog here. But you can use anything you'd like - including glitter, stickers and so much more!

Decorate your sidewalk and street with happy pictures and messages using colored sidewalk chalk.
Many towns are resorting to putting up their Christmas decorations to help keep people cheery during this stressful time, including Anheuser Busch! Hang a few of your kids' favorite Christmas decorations, or put up the lights! Hang them inside if you aren't ready to expose yourselves this way. A mantle or kids' room can look really fun with a few string lights!
Start an indoor herb garden! These are incredibly easy, and come in a variety of types. Here's our favorite Herb Garden Kit on Amazon.

You can also start a real vegetable and fruit garden outdoors when the weather is warm enough in your area. To start the vegetable and fruit plants from seeds indoors, we recommend the 36 Plant Peat Pellet Indoor Greenhouse Kit from Burgess, and any seeds you want! These will grow pretty quick so kids will get great satisfaction from watching them grow. Build little markers to keep your plants organized and named using folded washi tape on toothpicks. Write on the washi tape with a sharpie.
Attend virtual church on Sunday! Several congregations have taken their services to the internet. Seek out your local church to see if they've got something ready online. This priest asked people to send him their photos, and he taped them up on the pews during his virtual sermons so that he could see all of his congregation!
Order carry out from your favorite local restaurants. They need you more than ever to support them and help them stay open after this is over!
20 Things To Do Without Children
Take a hot bath. Get out those bath bombs, salts, and bubbles. BONUS - add a glass of wine!
Read a Book. May we recommend a few favorites? Try And Then She Was Gone, by Lisa Jewell, or Where the Crawdads Sing by Delia Owens, or Grief Cottage by Gail Godwin - available on Amazon, Google Play, and Audible.

Start a Blog. Have some interesting bits to share about life? Start your own blog! It doesn't have to cost a penny. Visit wordpress.org or blogger.com to get started!
Tidy up your resume. This is the most important document about yourself. Why not spend some time sprucing it up! Check out some amazing layout templates on creativemarket.com.
Have a "SPAHHHHH Day". Start with a hot bath (see above), add a hair mask, face mask, and eye mask. Soak your feet and nails. Then paint your nails! It doesn't matter if you're no good at this, no one will see them!
Start a Planner. We recommend and LOVE the Me and My Big Ideas Happy Planner. They can be ordered online at Michaels' Craft Store (now offering curbside pickup!), and the MAMBI Happy Planner website has tons of great inspiration! Don't forget your 40% off coupon for Michaels!
Exercise - No equipment? No Problem! You Can Do This Full Body Workout at Home With Zero Equipment! Search YouTube for other workouts to target specific areas of your body. There are TONS of resources out there!
Empty your closet and dresser drawers. Hold everything and determine if it "Sparks Joy" á la Marie Kondo. If not, make a pile of items to donate!
Listen to this list of 100 songs to help lift your spirits during a pandemic.
Clean out your make up, lotions, and creams. They aren't made to last forever! WASH Your make up brushes too! Use shampoo or anti bacterial soap if you don't have brush cleaner. Looking for a good brush cleaner? We recommend this one, made by Elf.
Learn how to cook new recipes with ingredients you already have. Visit Hungry Girl for clean and healthy recipes.

Buy gift certificates from your favorite businesses to help them stay afloat while we quarantine. (Yes, this is a shameless plug) We recommend Spilled Glitter's - now offering a bonus back for you during our Give & Get Gift Certificate sale! Find other stores near you doing the same and support them too! They make great gifts on the fly when those co-worker birthdays sneak up on you too!
Do your income taxes. Yikes. They pushed the deadline back, but you already have everything you need to at least do them, even if we don't have to turn them in until later this year. Why not get started?
Update or write your will and organize your affairs. Yes, it sounds melodramatic and morbid but let's face it: This is a task many of us avoid because we never have the time. Now we do. Check out the free resources available at Rocket Lawyer!
Give your back patio or front porch a makeover! Shop online at Hobby Lobby, Target, At Home, Michael's, and TJ Maxx for fun decor, pillows, rugs and more! All stores are having sales right now = BONUS! 
Go back to school. Tons of Ivy League schools are offering FREE online classes. Check these out. Browse from Science, Computer Science, Coding, Art & Design, Math, Engineering, Health & Medicine (yes please!) and so much more!
Donate Blood if you are healthy, people need it badly right now. Visit the Red Cross for locations near you and to schedule an appointment.
Organize your home office, or create a home office space. Many of us are working from home right now. Make sure your space is clutter free so that you can stay focused!
Do some spring cleaning! Here's a handy checklist to use from theShoppingMama.com.

Source unknown. Is it you? Let us know!
Lastly - BINGE ALL YOU WANT. I recommend: The Outsider, Mr. Mercedes, Ozark, Stranger Things, You, Dexter, Unbelievable, Broadchurch, The Making of a Murderer, The Sinner, Bosch, American Horror Story, Haunting of Hill House, Absentia, Broken, Castle Rock, Black Mirror, Dirty John, Dark, Goliath, Homecoming, Flea Bag, Hanna, Mindhunter, Russian Doll, The Rain, Chernobyl, Breaking Bad, Sharp Objects, Sneaky Pete, The Passage, The Returned, and You're the Worst. *None of these shows are recommended for children. Download the free HOBI app to track your shows and progress!