First Week of March Planner Spread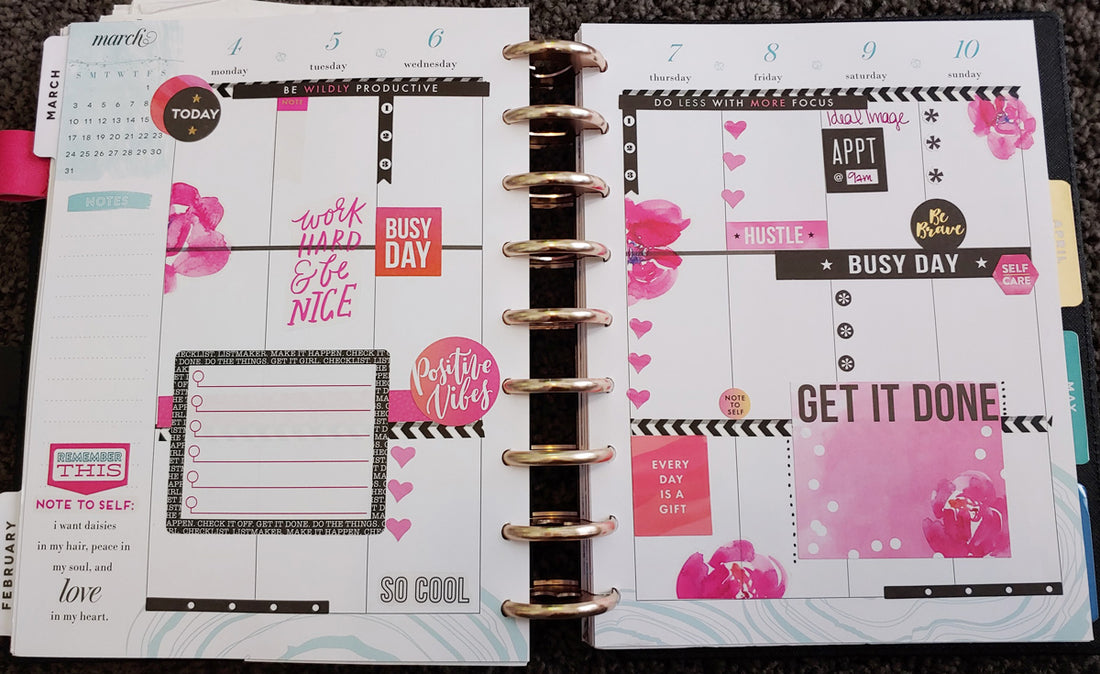 YAY! March is here! That means Fat Tuesday full of Jambalaya and yummy corn bread, Lent starts (uh oh, time to give something up! We LOVE having great fish recipes and getting together with family for "Fish Fry-Day"!), St. Patrick's Day and more of our delicious Corned Beef Sandwiches, and spring is really on it's way!
Living in a town in the Midwest that gets ALL the seasons is usually amazing, because we get to thoroughly enjoy each and every one of them, but this winter, I am OVER it. It has snowed SO MUCH and been very bitterly cold. I think the older I get, the worse I feel about winter…and it keeps going downhill for me. At this point, I'd take a week or two of it and be done… Maybe I'll eventually be a snowbird! So I'm more excited than usual for spring this year…so much so, that I've been using snow days to do my spring cleaning sooner rather than later.
Here's my March Monthly Happy Planner Spread!
This March I chose greens to go along with St. Patrick's day, and added purples for Mardi Gras and mostly because it was my grandmother's favorite color. This month marks 1 year of her passing on March 15th (yes, where the large flower is). Looking back over the past year without her, I can say that I've definitely learned a lot about myself, and my family. Grief has it's way with you at first, and then you have your way with it. I've learned this over the last 18 years over and over, so much so that you'd think I should be a pro at it by now…But it changes you with time. It has been one heck of a year of making new habits and remembering to check in with my tribe – since my grandmother is gone…she was our glue. This is why I chose to add the "Storms Don't Last Forever" sticker for this month, because I know she wouldn't want me to dwell on the sadness we feel without her. She used to always say "you've got the same pants to get glad in" or "pull up your big girl pants and get the job done"… and I used to reply "if I pull them up any harder (or one more time) the elastic is going to give and I'm going to rip them off"!
March also marks the beginning of my company's busy months with seminars and sponsorships, so it's definitely time for me to buckle my seat belt and get ready (as if the past few months going through an expansion have been just a breeze!). So much has been growing and changing in the office, it's a super exciting and very exhausting time! I'm humbled to be a part of my company's evolution to where we've come today and so thrilled to be a part of the shaping of what it will be in the future. This, I'm referring to my full time position with Amplified Digital, aka: Day job 🙂
Lastly this month…my favorite…The International Gem and Jewelry show. It comes to the St. Louis area twice a year, once before Easter, and once before October. The women in my family have been going to these shows for as long as I can remember…and yes, for those of you who I don't personally know, loving jewelry ABSOLUTELY runs in my family! With my mother and my grandmother now gone, my Aunt and cousin and I go each time the show is in town. It is slightly overwhelming for anyone not familiar to the Jewelry show scene…Basically an event venue / convention center – FULL of jewelry vendors. It can be overstimulating to the show virgins…that's for sure! I love it though because I'm able to restock some of my staple items like beads for dangles, and get tons of great ideas and finds to make necklaces, bracelets and earrings throughout the rest of the spring and summer months. (I'll post some photos from this year's show so you can get an idea of what it's like!)
First Week of March Weekly Planner Spread
When I first really got into Glam Planning, I started slightly haphazardly. I used loads of colors and things where everywhere because I wasn't sure where I'd end up writing. Now that I've gotten into the groove, I can lay out my weeks' spreads knowing more of what to expect from my week, and that certainly makes it easier. I tend to use washi tape to separate times of day. For example, you'll often see on my spreads that I've taped off either the top and bottom, or at least the top and the separation from afternoon to evening. This is exactly what those tape lines do for me is break up the space of my days. In the above example, you'll see a simplistic version of the layout. I actually take it a step further to the below…really dialing up the frilly detail and glam!
Have a great week!