Planning Your Family's Weekly Menu + FREE Printable!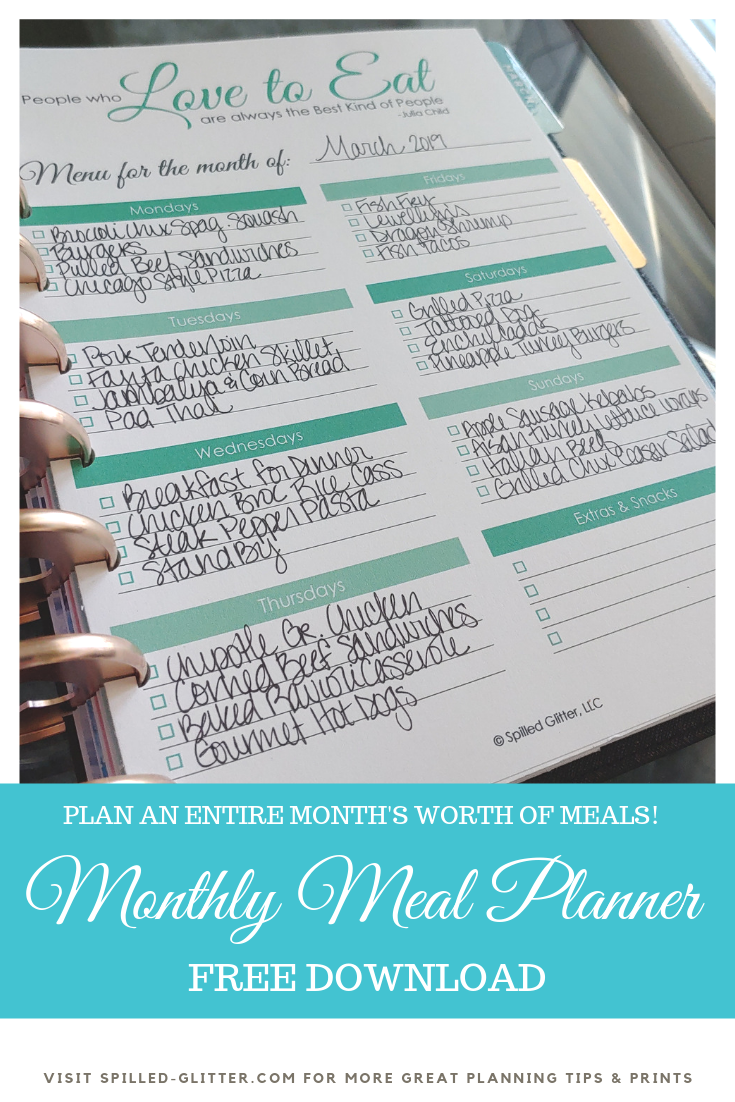 Need to get out of your dinner rut? We did.
For months, I would come home from work – tired, exhausted really – and worst of all, HUNGRY with no plan of what to make for dinner. Don't get me wrong, I absolutely LOVE cooking – but I didn't take the time to think about it early enough to make a PLAN for what we were going to have – before it was time to cook it, and most of our meats are stored in the freezer so if we didn't have it pulled out, it wasn't going to happen. (I'll get to that in a bit on another post!)
So we ate poorly, it was frequently fast food and unhealthy options that weren't giving us the best nutrients.We would feel overly full, it was expensive, and we gained weight. It was sad really, but we were living on the fast train, working hard and trying to make a living raising kids like everyone does! We were just too BUSY.
Then I started Glam Planning. There's a bit about getting into Glam Planning here if you're interested. I found that most of my work-home life became more balanced when I had a better game plan for things. I calendared out events, birthdays, dinner plans with family and friends, upcoming holidays, work deadlines, school schedules, after school schedules and more on the basic pages that came with my MAMBI planner. It was becoming so much easier! Then I realized that if I did the same thing with our dinners, our meals would be simpler too!
I looked online for printable pages, found a few I liked but none that really fit exactly what I needed. So I made one!
Here's an example of how I use my Monthly Meal Planner Pages:
Print out the Monthly Meal Planner
Trim and punch the edge with your MAMBI 365 Happy Planner Edge Punch
At the beginning of each month, while my family is sitting down together either watching TV or eating dinner, I ask them what they'd like for dinner or what they've been craving.

Sometimes it is things that are seasonal, sometimes they mention copy cat recipes from restaurants, and sometimes they want to shake it up and have breakfast for dinner!

Doing this lets every person have a say and make choices to contribute to our meals, so no one feels left out. If they don't particularly love something, they don't worry because their choice is up next!
I write them down, but not in any specific order.

For example, my son's meals may be every Tuesday, and my husband's may be every Thursday.

Throw a few things in there that I know we need to eat or that have been in the fridge/freezer for a while, plus the things I want, and BAM! I've got a month of meals, all laid out by day of the week, so it is incredibly easy to follow along each week.
Hop around if you want and choose the following Thursday instead of what's up next on this Thursday's list. It's up to you!
Then I lay out all of the recipes on a PINTEREST BOARD, so that I can find the recipes easily when I need them.
It takes a bit of planning – yes, but then I'm worry free about the big "What's For Dinner?" question all month long.
I can grocery shop to it, and I can rest easy without having to think about it! YES! One less thing to remember / worry about! WIN! 🙂
Planning Meals Monthly Makes it EASY!
What makes this so great and easy is that it takes SO MUCH of the guesswork out, that you can plan for what's ahead, and know what to expect. Put your nights for dinner out at restaurants or when you order pizza on it too! That way you're capturing everything and know how many meals you've got ahead and what to mix up.
Sometimes if there's a lot left over that we didn't eat – for example February has a few extras, we can decide if we want to carry them over to March or not. If it is food in the freezer that needs to be eaten, it usually gets carried over – if not, it's up to my family to decide if they still want it.
Here's how mine usually lays out:
Download your FREE Printable Monthly Menu Planner Here!
I also made you this adorable WEEKLY meal planner if you'd like to sort out your weeks, with a foldable tear off grocery list!
Download the weekly meal planner page and grocery list here.
Enjoy!