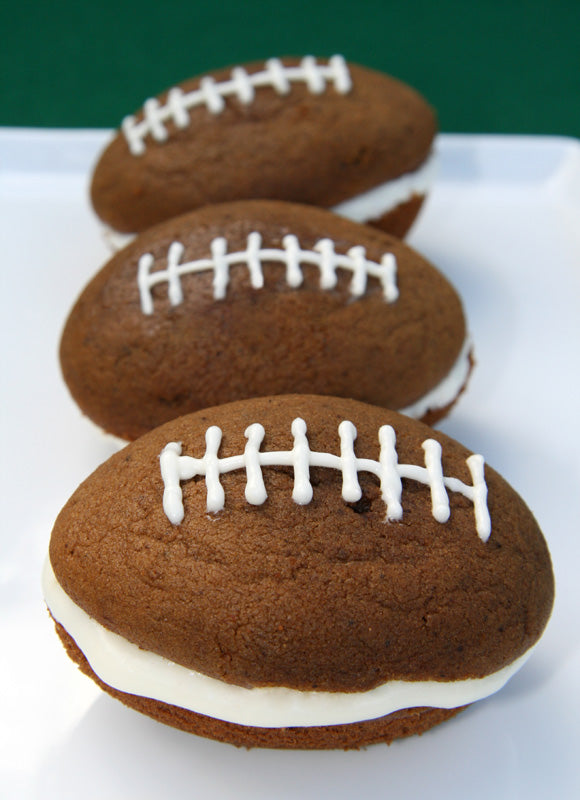 Football Whoopie Pies
Print recipe
| | |
| --- | --- |
| Allergy | Egg, Milk, Peanuts, Soy, Wheat |
| Meal type | Appetizer, Dessert, Snack |
| Misc | Child Friendly, Pre-preparable |
| Occasion | Barbecue, Casual Party |
| Website | Make Merry Events |
Ingredients
Egg Shaped Muffin Pan
1 Chocolate or Pumpkin Spice Cake Mix ((You will need Ingredients to Make the Cake Mix According to Package Instructions))
1 can White Frosting
1 White Decorating Icing Pen
Directions
Step 1
Preheat oven to 350 degrees. Spray pan with non-stick baking spray.
Step 2
Make the batter according to the recipe (and my changes) then scoop them into your well-greased pan – nearly full, with tops as smooth as you can get 'em.
Step 3
Bake 18 minutes at 350 was perfect for me, so you might want to start checking them around 16 – 18 minutes – they're done when a toothpick inserted into the middle of a cake comes out clean.
Step 4
To fill and decorate them, cut each cake in half and gently brush off any large crumbs. Put a big dollop of crème on the bottom half (enough to scare you a little bit) then put the top on and gently push down. Don't worry if it's not perfect – you can clean around the edge with a butter knife and make it pretty.
Step 5
Use your white icing pen to pipe on the laces. I'm not the world's greatest cake decorator, so I used a toothpick to fix my lines. Feel free to do the same, and don't worry if they're not perfect. No one will notice as they stuff it in their mouth and grab another one. Yum!
Step 6
They are soft and moist, with the perfect subtle pumpkin flavor. Not too sweet, not too spicy – just right. And could they be any cuter?