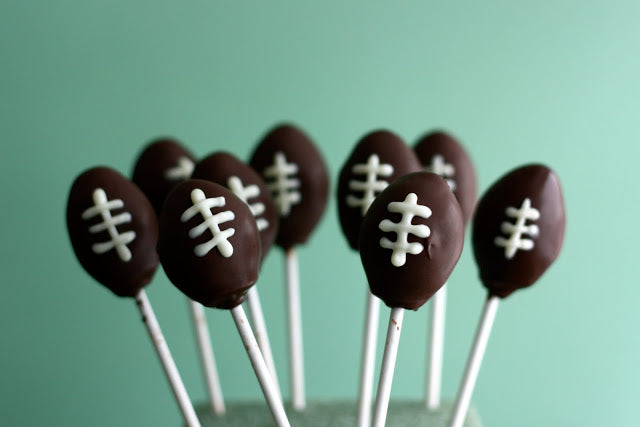 Football Cake Pops
Print recipe
| | |
| --- | --- |
| Allergy | Egg, Peanuts, Soy, Wheat |
| Meal type | Appetizer, Dessert, Side Dish, Snack |
| Misc | Child Friendly, Pre-preparable |
| Occasion | Barbecue, Birthday Party, Casual Party, Easter |
| Website | Baked with Love and Butter |
Ingredients
1 box Chocolate Cake Mix ((Including Ingredients to Prepare Cake Mix According to Instructions))
1 can Chocloate Frosting
1 bag Chocolate Candy Melts
Shortening / Crisco
Lollipop Sticks
White Candy Writer Decorating Pen (Or White Decorating Tube Icing)
Directions
Step 1
Bake the cake in a 9 x 13" pan according to the directions on the box.
Let the cake cool completely.
Step 2
Now the fun starts... Crumble the cake into a large bowl.
The smaller the crumbles the better.
Step 3
Mix in about half the jar of room temp frosting. It really depends on how moist your cake already is. Add more if you need it. Use the back of a wooden spoon to combine, NOT a hand mixer. You want the mixture to be about the same consistency as cookie dough, moldable but not mushy,
able to hold its own shape but not too dry.
Step 4
Line a baking sheet with wax paper. Scoop some "dough" and roll it into a ball about 1" in diameter. Squash and mold your ball into a football shape.
Fill up the sheet and chill in the fridge.
Step 5
While the footballs chill, heat up half a bag of the chocolate candy melts.
Microwave in 30-second intervals, stirring between.
Step 6
Be careful not to over-microwave it because it will get dried out.
DON'T add water if this happens. Use the shortening.
It will thin the candy out and also help when you start dipping.
Step 7
Pull your footballs out of the fridge. Dip the end of a lollipop stick about a 1/2" into the candy. Then stick it into the football. There should be a little puddle of candy around the base. Wait until it hardens. This will help keep the football "glued" to the stick while you dip the whole thing.
Step 8
Dip the footballs in the candy to coat them, tap the stick on the edge of your container gently to remove the excess coating. Then poke the stick into a styrofoam block or stand, making sure the pops don't touch each other while they dry. Aren't they cute already?
Step 9
In the meantime, you can heat up your candy pens. Follow the instructions specific to your pens... usually you set them in some very hot but not boiling water.
Step 10
Draw on the laces with the white pen. Use slow movements and even pressure. Lay the pops down on a wax-covered baking sheet
to make decorating easier.
Step 11
Let the laces dry, and that's it!
Football cake pops, perfect for the big game or any tailgate.