Choosing the Right Wedding Jewelry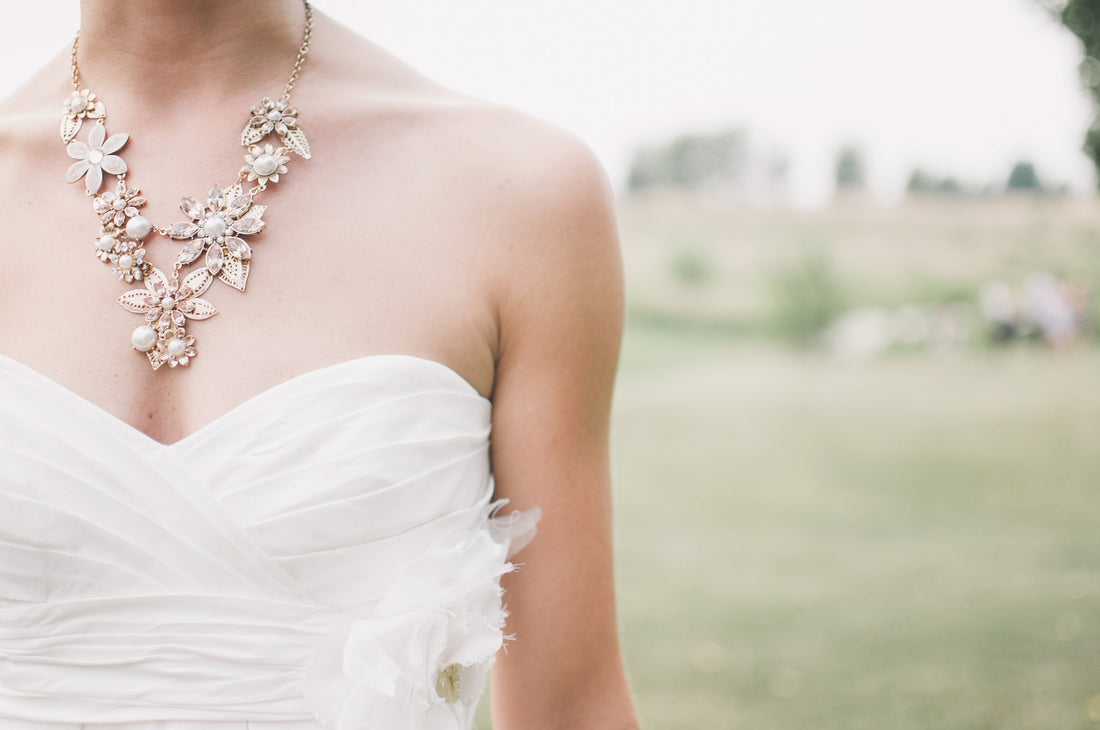 Wedding jewelry is an important part of a bride's ensemble, as it adds the finishing touches to her overall look. Choosing the perfect wedding jewelry can be a daunting task. At Spilled Glitter, LLC, we understand that your wedding day is one of the most special days of your life. We want to help you make it perfect with our beautiful selection of dainty initial jewelry, minimalist styles, and statement pieces that will suit your special day perfect for your wedding jewelry.
First and foremost, it's important to consider your personal style and the overall aesthetic of your wedding. If your wedding is more formal and traditional, then you may want to go for classic pearl or minimalist earrings and a matching necklace. On the other hand, if your wedding is more bohemian or laid-back, you might opt for more rustic or nature-inspired pieces, such as wood or shell earrings and a beaded necklace.
When selecting your wedding jewelry, we recommend keeping your dress style in mind. Another factor to consider is the neckline of your wedding dress. If your dress has a high neckline, you may want to skip the necklace and opt for a pair of statement earrings instead. A necklace will be the perfect finishing touch if your dress has a low neckline. Just be sure to choose a necklace that doesn't compete with the neckline of your dress, but rather complements it.
It's important to consider the overall color palette of your wedding. If you are wearing a white or ivory dress, silver or gold-colored jewelry will be the most complementary. If your dress has a colored sash or is a different shade altogether, you may want to choose jewelry in a coordinating color.
In addition to the above tips, it's also a good idea to consider the type of wedding you will be having and your budget. If you are having an outdoor wedding, you may want to choose more lightweight and delicate pieces, as you don't want anything too heavy or cumbersome. For a formal indoor wedding, you can choose more elaborate pieces that will make a statement. At Spilled Glitter, LLC, we have a variety of price points so that you can find something that fits your budget.
We have an extensive collection of beautiful wedding jewelry that includes necklaces, earrings, bracelets, rings, and more. Our pieces are made with high-quality materials and each piece is unique and crafted with attention to detail. We also offer custom jewelry so that you can create a piece that is truly one-of-a-kind.

At Spilled Glitter, LLC, we want to help you find the perfect wedding jewelry for your special day, and we're here to help you narrow down your choices and find the perfect piece. When it comes to choosing your wedding jewelry, the most important thing is to find pieces that make you feel confident and comfortable.
Whether you choose classic pearls or a more unique, one-of-a-kind piece, the most important thing is that you love your wedding jewelry and feel like it represents your personal style. With these tips in mind, you'll be well on your way to finding the perfect wedding jewelry to complete your bridal look. Shop online at Spilled Glitter to find the perfect wedding jewelry for your big day!