2017 Perfume Locket Giveaway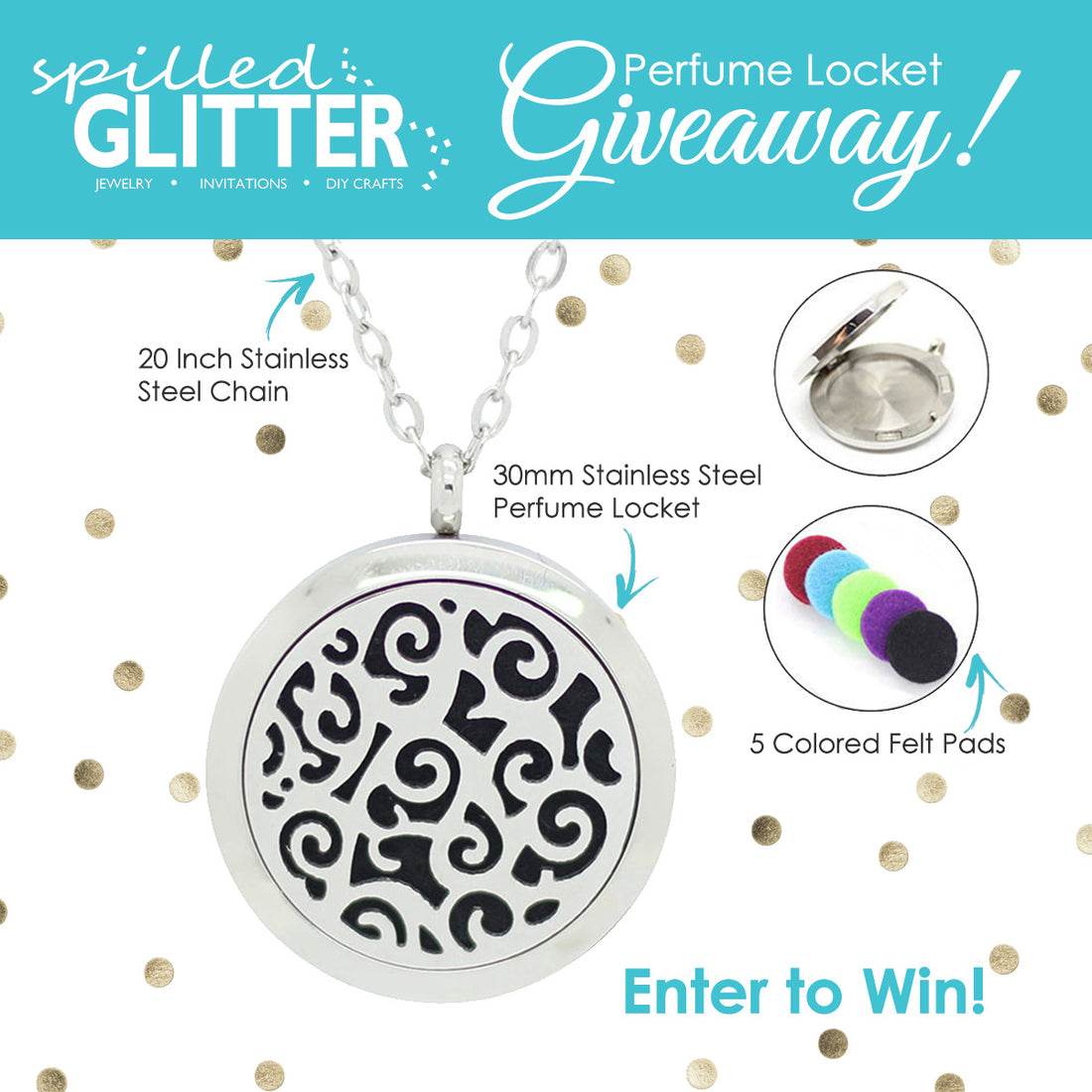 Official 2017 Perfume Locket Contest Rules:
NO PURCHASE OR PAYMENT OF ANY KIND IS NECESSARY TO ENTER OR WIN. A PURCHASE WILL NOT INCREASE YOUR CHANCES OF WINNING ALL FEDERAL, STATE AND LOCAL LAWS AND REGULATIONS APPLY. VOID WHERE PROHIBITED.
OFFICIAL RULES. The following are the Official Rules ("Rules") for the Spilled Glitter Perfume Locket Contest ("Contest"). In order to enter the Contest, you must agree to these Rules. You agree that submission of an entry form and/or participation in the Contest constitutes your agreement to these Rules.
SPONSOR. The Contest is sponsored by Spilled Glitter, LLC. ("Sponsor"), a Missouri Limited License Corporation, with its principal place of business in Wentzville, MO.
CONTEST. Offer valid beginning at 12pm CST on January 2nd, 2017 and ending at 11:59 pm CST on January 31st, 2017 ("Offer Period"). To enter, submit your email address, first name, last name and birth date via the form located on the contest page at https://spilled-glitter.com/2017-perfume-locket-giveaway/. Winner will be selected at random and notified via email. If a winning Entry is discovered to be invalid for any reason prior to delivery of a Prize, or if a winner cannot be contacted or does not respond within 48 hours, an alternate winner may be selected, at the sole discretion of the Sponsor. The winners will be announced on the contest page and Spilled Glitter's social media pages once the winner has been notified, on or before February 1st, 2017 at 12 Noon CST.
PRIZES. Grand Prize. One (1) grand prize winner will win the following grand prize: One 30mm Stainless Steel Perfume Locket with a 20″ stainless steel chain and 5 colored felt pads. The approximate retail value of the grand prize package is $30.00. The grand prize winner shall be referred to collectively as the "Prize." Limit one (1) Prize per winner. Winner will be selected at random and must submit all information on the entry from to be entered. All results and decisions of the Sponsor are final and binding in all respects. No Prize is transferable or redeemable in cash and must be accepted as awarded. Potential winners are subject to verification of eligibility by sponsor, including compliance with these rules, before any Prize will be awarded. If a potential winner is found not to be eligible or not in compliance with these rules, the potential winner will be disqualified. Not valid for employees, immediate friends or family members of Sponsor. Sponsor reserves the right to terminate, cancel or modify this offer at any time. Void where prohibited. Sponsor reserves the right to substitute any Prize with an item of equal or greater value. Other restrictions may apply.
All costs and expenses not specifically listed above, including, without limitation, sales or use tax, shipping and handling charges over $3.00 US to be incurred in connection with the Prize are the winner's responsibility. Sponsor shall have no responsibility or obligation to any winner who is unable to accept or utilize the Prize described herein.
No purchase necessary. Each participant may enter one (1) time during the Offer Period. Entrants must be 18 years old, and must currently reside within the United States. Entries received from any person outside of the United States will be voided.
GENERAL. This Contest is governed by the laws of the State of Missouri, United States. All federal, state and local laws and regulations apply. By entering and participating in the Contest, you agree to be bound by these Rules and by the Sponsor's decisions, which are final and binding on all matters relating to the Contest. Entrants are required to provide accurate, valid and truthful information at all times. The Sponsor will reject and delete any entry that it discovers to have tampered with the entry process, the operation of the Contest, or is otherwise in violation of the Rules. The Sponsor reserves the right to verify the accuracy of any information provided in connection with this Contest, and to otherwise investigate the eligibility of any entrant. A potential winner's right to receive the Prize shall be subject to such investigation and verification by Sponsor.
By participating in the Contest, you represent and warrant that all photos, images and pictures are genuine and original, and have not been copied from others; and that you are the sole and exclusive owner and rights holder thereof, or you have obtained the necessary permission to include such content in the Contest, and that you have the right and authority to submit such content in the Contest; and any such content submitted as part of your participation in the Contest do not violate any third party intellectual property or proprietary rights.
The Sponsor is not responsible for electronic transmission errors, which result in the omission, interruption, deletion, defect, destruction, alteration, and/or delay of any entry. The Sponsor is not responsible for any technical, network, electronic, computer, hardware and/or software malfunction, problem, incompatibility, congestion or failure of any kind. The Sponsor reserves the right to cancel, terminate or modify the Contest if it is not capable of completion as planned, including without limitation, by computer virus, bugs, tampering, unauthorized intervention or technical failures of any sort.
By submitting an entry and participating in the Contest, you agree and hereby grant the Sponsor and its affiliates permission to use, copy, modify, publish, and/or reproduce your entry, including but not limited to your name, email address, likeness, photos and image, for any purpose, including but not limited to marketing, media, editorial, commercial, advertising, promotional and/or publicity purposes, in any form of media anywhere in the world, without further compensation to you. You also agree to participate in any marketing, media, editorial, commercial, advertising, promotional and/or publicity activity related to the Contest. You agree to provide affidavits to Sponsor upon request for the purpose of complying with legal and/or broadcaster requirements concerning the use of photos and/or testimonials in advertising.
To the maximum extent permitted by law, you hereby agree to indemnify, release and hold harmless Sponsor and its affiliates, and each of their respective shareholders, directors, officers, employees, licensees, successors, representatives and agents at all times from and against any and all claims, actions, losses, liabilities, damages, proceedings, costs (including attorneys' fees) and expenses for any injury, damage or loss caused or claimed to be caused, based upon, or arising from the acceptance, possession, use or misuse of a prize or any part of a prize, entering the Contest, participation in the Contest, or participation in any Prize related activity or event.
If any section, provision, term or clause shall be held or found to be unenforceable or invalid by a court decision, statute, rule or otherwise, the remaining provisions shall not be affected thereby and shall continue in full force and effect and such provision may be modified or severed from these Rules to the extent necessary to make such provision enforceable and consistent with the remainder of these Rules.
Save