Buy 3 Get 1 Free - All Earrings!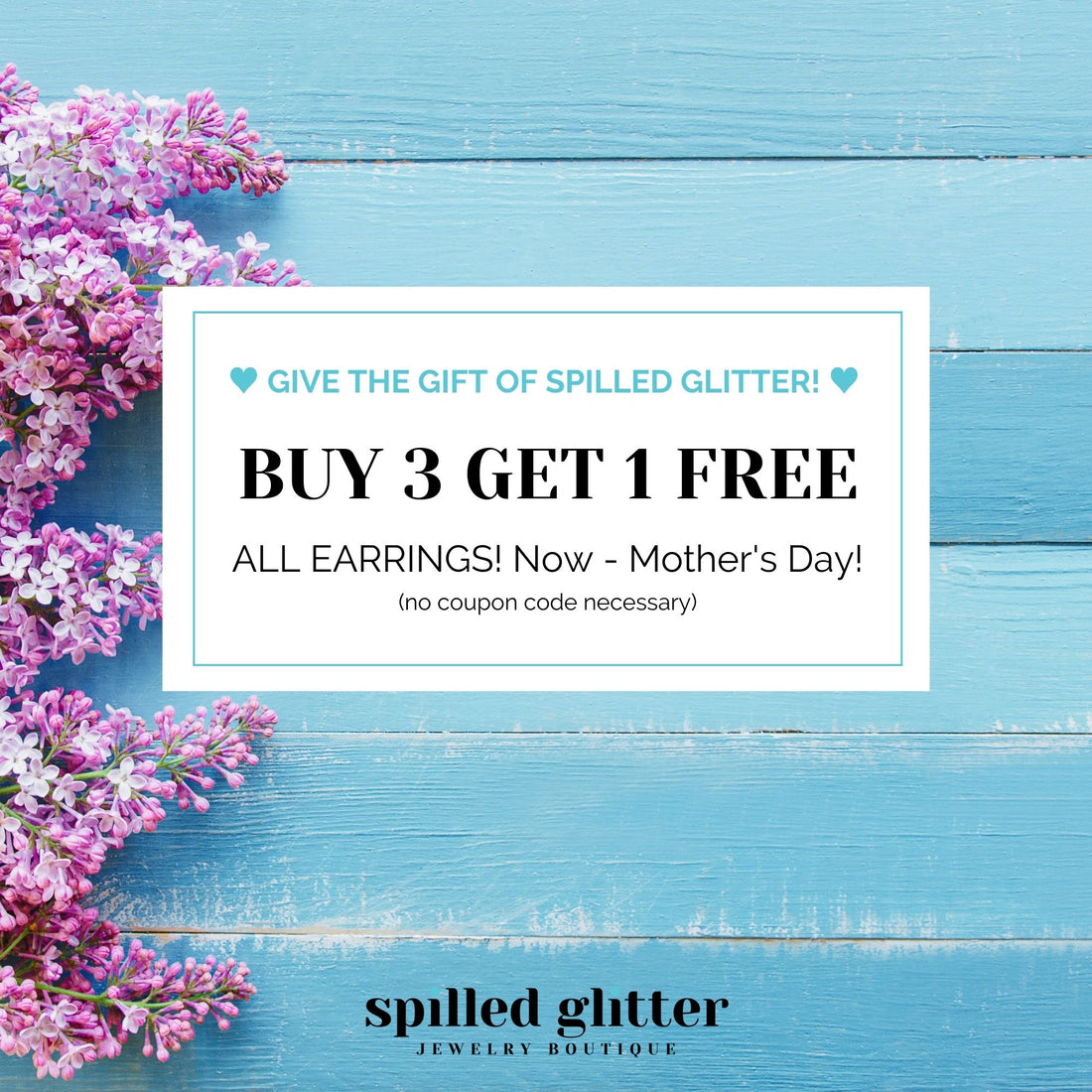 Are you looking for the perfect Mother's Day gift? Look no further than Spilled Glitter's latest offer - buy three pairs of earrings and get one free!
No coupon codes are necessary; the sale can be combined with free shipping offers! The offer expires 5/14/23.
Choosing the Right Jewelry for Mother's Day Gifts
With so many beautiful pieces of jewelry to choose from, you'll be sure to find something that will make the special woman in your life or your mom, smile. 
Choosing jewelry for Mother's Day gifts can be a daunting task. How do you know which piece your mom will love the most? We've put together a few tips to help you make the perfect selection:
First, think about her style. Is she a classic mom who prefers timeless pieces? Or is she a trendsetter who loves statement pieces? Knowing her style will help you narrow down your choices.
Second, consider her hobbies and interests. Does she love to travel? Look for earrings inspired by her favorite destinations. Is she an animal lover? Choose something that features her favorite animal. Or, if she's a gardener, pick something with a floral motif.
Finally, think about what she'll actually wear. Will she be more likely to wear studs or hoops? Is she more likely to wear gold or silver? The more you know about her preferences, the easier it will be to choose the perfect pair of earrings.
At Spilled Glitter, we're here to help you find the perfect gift for any occasion. With our buy three get one free offer, you can give your mom four beautiful pairs of earrings for the price of three. She'll be sure to cherish each piece for years to come.
Happy Shopping! 🌼
Sale - Special Offer Details:
*Limit one coupon code per customer. Total cart must contain 3 or more pairs of earrings to qualify. No coupon code is required to be entered at time of checkout. Limit per checkout is 2 free pairs total. May only be combined with free shipping offer. Offer expires 5/14/23.