2018 Soak Up Summer & Save!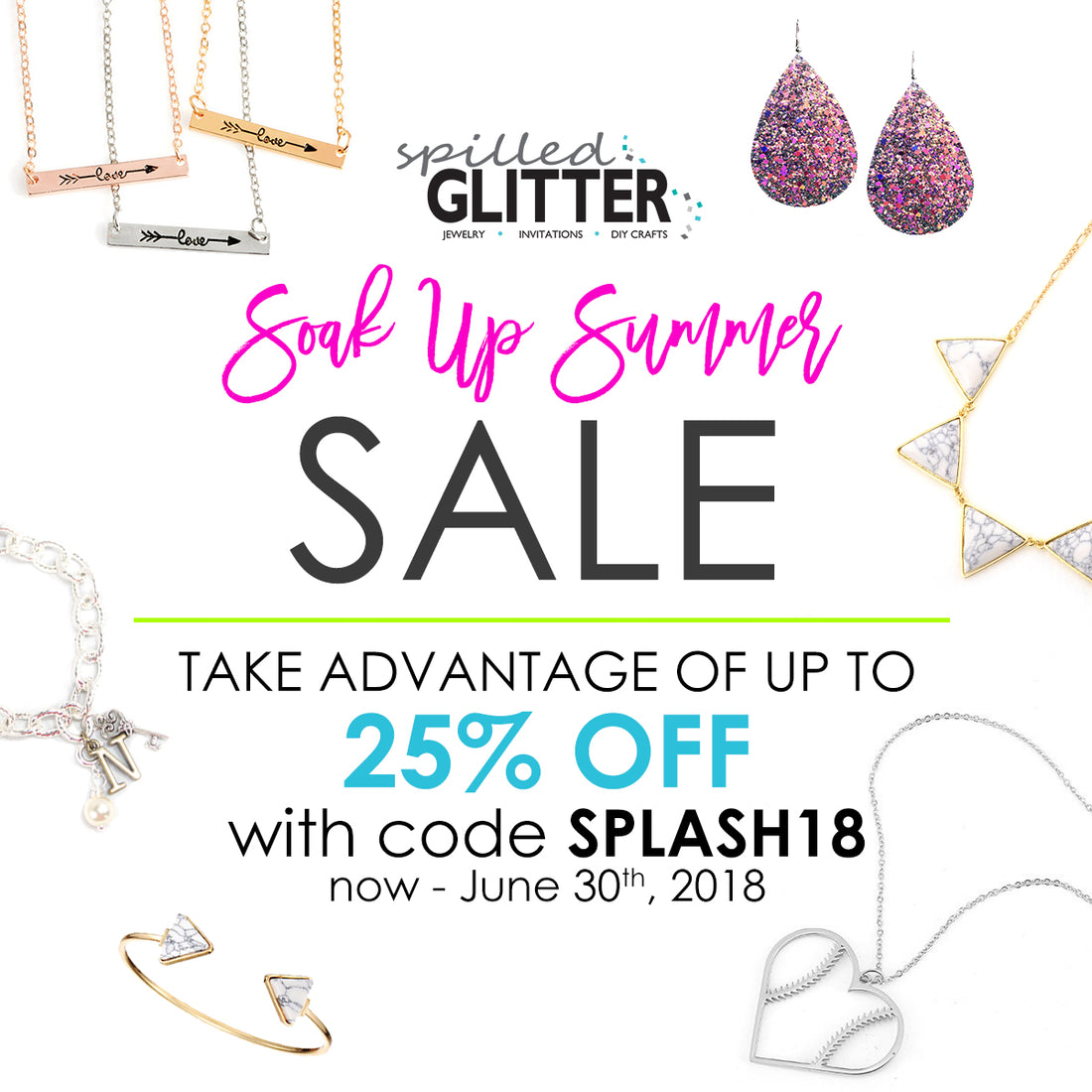 No matter where summer takes you this year, make sure you do it in style! Update your accessories for summer! Now – June 30th, enjoy up to 25% off Spilled Glitter jewelry and accessories of $10+ with code SPLASH18 at checkout.
One of my favorite things about summer are the endless possibilities and bright color combinations for fun and fearless summer style! There are always timeless trends that go perfectly with the warm summer months. What are your favorite summer accessories?
Buy new, brightly colored pieces that make your eyes pop. Look for raw stones like druzy and quartz for a unique look. These trends look great on anyone, no matter your personal style or age.
We've got a beautiful collection of summer floating lockets, necklaces, earrings, and bracelets! Here are 8 trends to consider when buying summer jewelry.
1. Don't shy away from bright colors
Summer is such an exciting time of year, filled with family gatherings, bbq's, fun vacations, the beach, bright sun, boats, and blue water.
With all of these fun pastimes, your jewelry and accessories should also be bright and vibrant. Look for bright hues that match your blues, yellows, oranges and pinks. No bright colors in your closet? No problem! Pair a white shirt with the brightest necklace you own. Stack beautiful bracelets together with mixed metals and color. Find a light-weight scarf to pair with a plain shirt and some dazzling bright earrings.
Your colors should always be bright and bold. This is no time for muted hues! Shop for large pendant and fun beaded necklaces. If you don't have one – make one! A simple long silver chain or chain bracelet can carry tons of beautiful and colorful pendant dangles.
2. Find and mix gemstones & raw stones
Summer is the perfect time to play mix and match with beautiful gemstones and raw stones. Look for fun beaded styles, like howlite necklaces, amazonite bracelets, and obsidian bracelets. Find beautiful druzy necklaces and earrings and quartz beaded jewelry. Your gems and stones will shine all night long during those long romantic walks on the beach, partying with your girlfriends, or hanging out by the fire with friends!
And don't be afraid of mixing metal colors! Some of our favorite pieces include beautiful combinations of metal colors and hues.
3. Lake and sea inspired pieces
What better time to take out your pearls and mermaid scales than for summer jewelry?
Pearls never go out of style, and they truly look the best in the summer! Check out this beautiful long layering pearl necklace – just waiting for a great pendant to wear! Or this adorable mother of pearl necklace with mint gemstone and tassel.
Mermaid stud earrings are perfect for a casual day in the pool or on the beach. If you're a minimalist, choose a small accessory to compliment your outfit, such as a simple chain bar necklace or simple beaded bracelet like this labradorite bracelet.
For a formal evening or day of fun (not int he water!) try an adorable beach themed floating locket.
4. Fall in love with rose gold
Rose gold has been booming in popularity over the past few years. Its subtle pink hues are reminiscent of a beautiful summer sunset, and it pairs very well with other simple colors such as silver, white, and black.
Try it as a rose gold floating locket, where you can mix and match different stones and charms that help share your story. Or as an extra long lariat choker – perfect for those bohemian outfits and fun, flowy dresses! Have fun with it and mix raw stones like druzy with rose gold stud earrings like these!
5. Chunky beads and bracelets
Millenials love chunky jewelry lately. Anything that pops in color and is oversized is a win! No matter what your age is, anyone can pull off chunky jewelry necklace and bracelet styles. Try this adorable, brightly colored mixed media necklace and bracelet, or this large chain white and gold statement necklace, or our bright teal polished flourite necklace.
Chunky bracelets are also perfect for any outfit style – our botswana beaded glacier bracelet features large botswana agate beads in warm oranges and grays. These large beaded mixed agate tassel bracelets are also a huge hit!
Large turquoise beads are perfect for any time of the day and look amazing with nearly any color. Try this white and teal turquoise stretch bracelet with a feather dangle for fun!
6. Chokers and short necklaces
Fun and flirty chokers are all the rage right now. While young and thinner body types look great in them, not everyone is a huge fan. Instead, opt for a short necklace that sits right at the base of your neck, like this blue charcoal and crystal beaded necklace. Or go with a lariat style "tie" necklace that let's you control the length around your neck but offers a fun dangle like this black suede silver drop lariat necklace! This white quartz lariat necklace is perfect and adjustable!
7. Drop and dangle earrings
When you're out having fun in the sun, sometimes you can't wear a necklace and bracelets may get in the way. Opt for a bright pair of dangle earrings, or choose fun metals to mix and match. Beaded earrings are really easy, and usually inexpensive. They offer fun and flirty styles with a touch of color. Try these adorable white howlite tassel earrings, our teal spike earrings, or these chunky turquoise earrings. Choose a style and color that go great with your swimwear, or for a day out in the park!
8. Leather earrings
Joanna Gains has created quite a monster with her love for leather dangle earrings. They've been all the rage since their first debut on her Fixer Uppers show. There are tons of great styles, like strip dangles, teardrops, and leaf shapes. I personally love the iridescent sparkle glitter leather earrings and the light pink blush leaf leather earrings. There are also tons of great patterned leather earrings! If you're looking for something a bit more flirty and fun, try a pair of printed floral leather earrings like these, or snakeskin iridescent leather earrings!
Is your Wardrobe Ready for Summer Styles?
Summer is filled with sunshine, warm relaxing days by the water, bbq's with family and friends, and bright summer colors. While making fun memories, choose fun jewelry that correlates with the fun of summer!
Browse our products and pick out new jewelry for the summer!