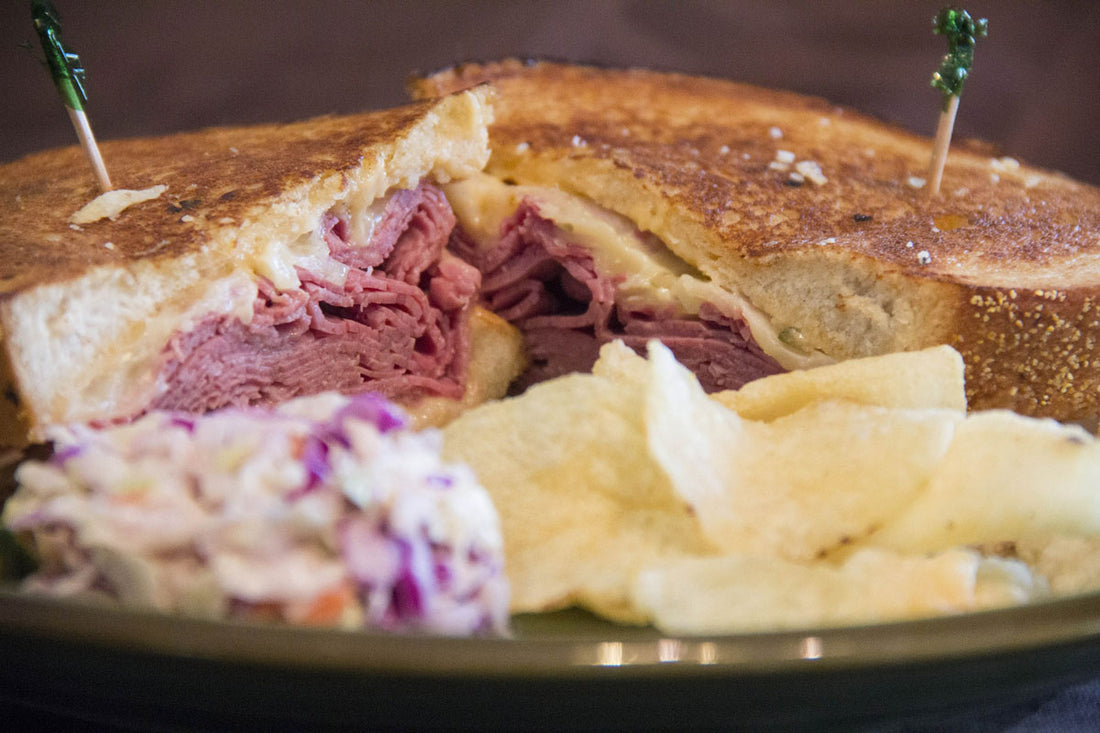 New Year – check. Valentine's Day – check. Awesome, it's almost spring!
St. Patrick's Day is almost here and it's time to dust off those corned beef recipes and get ready for our "all-things-green" holiday. Our family has never loved the traditional methods of cooking corned beef, such as corned beef and cabbage or Reubens, but thankfully my husband introduced us to a wonderful creation that I just can't get enough of!
Growing up in Michigan, my husband and his friends and family often went to a deli called Star Deli on 12 Mile in Southfield, MI, and got big juicy, beautiful sandwiches, freshly made and served by the owner Sid and his son Harry. To this day, his mother still stops by Star Deli on her way to visit us, ready with a cooler to pack full of their delightful corned beef to bring for dinner.
My Introduction to "THE Sandwich"
It wasn't our first few years together that he introduced us to this delightful sammie – he held it close to his vest for at least 2 years (we call these our "courting years") while we muddled through trying different recipes for corned beef each passing St. Patty's day. All of it was gross and overly vinegary. Then finally one day – he said, "I'm going to the store to get stuff to make this sandwich… You can have one if you want". And if I'm being honest with you…I "didn't want". I thought of the stringy sour mess of sauerkraut that most put on corned beef sandwiches, and was completely disinterested. YUCK. But that is not at all what he had planned. (I also don't actually like coleslaw, so this one is a stretch all around for me!)
He came home, and I watched – intrigued, but not yet quite interested in eating – as he piled the ingredients out of the bag and onto the counter. Seedless Rye bread (who eats that stuff?!)…Freshly cut deli Swiss…Deli sliced Corned Beef…a container of coleslaw (no thanks)…and thousand island dressing. He started by turning the oven on, placing the slices of bread on a baking sheet, and adding cheese (ok, you have my interest…we're now talking toasted cheese bread folks!). Once the bread was toasted, he pulled it out and added the meat, topped with cole slaw (wait, what?!) and added thousand island dressing. Ok. I'm interested.
The Makings of "THE Sandwich"
For the first few times I had this sandwich, I ate it with just the cheese, meat and thousand island. I can work with those things. I know what to expect. But when I thought about it and was honest with myself, I realized I was avoiding the cole slaw because I didn't know what it tasted like. I had never ACTUALLY had cole slaw! After a brief discussion, hubs offered me a bit of his… and… I LOVED IT! Now I can't wait every year to have these delicious sandwiches – so I sneak them in every few months throughout the year. December? Sure, corned beef sandwich time. I can't wait. I absolutely love how the cole slaw adds a bit of crunch and the thousand island compliments the corned beef. It's drippy. It's crunchy. It's delightful. YUM!
I promised when I shared my Egg roll in a bowl recipe that I'd share this recipe to use the cabbage mix. Hope you enjoy as much as we do!
THE Corned Beef Sandwich Recipe
THE Corned Beef Sandwich
Print recipe
| | |
| --- | --- |
| Serves | 3 |
| Prep time | 15 minutes |
| Cook time | 10 minutes |
| Total time | 25 minutes |
| Allergy | Milk, Wheat |
| Meal type | Lunch, Main Dish |
| Misc | Serve Cold, Serve Hot |
Our family can't wait till St. Patrick's Day each year to eat our delicious corned beef sandwiches! Work this meal into your rotation every few months for a super easy and delicious sandwich for dinner!
Ingredients
14oz Coleslaw mix with red cabbage and carrots
1/4 cup Mayonnaise
2 tablespoons Granulated sugar ((more or less to taste))
1 tablespoon Ground mustard ((optional))
1/2 teaspoon Coarse ground black pepper
1/4 cup Greek Yogurt
1lb Deli Sliced Corned Beef ((from your local grocer or deli))
1 Loaf Seedless Rye Bread
1/2lb Sliced Swiss Cheese ((from your local grocer or deli))
Thousand Island Dressing
Directions
Cole Slaw
Step 1
Whisk together ground mustard, black pepper, sugar, mayonnaise, greek yogurt, sugar, and vinegar. Mix well to ensure the spices are evenly distributed. Add shredded cabbage and toss to coat. Set aside.
Sandwich
Step 2
Preheat oven to 350. On a sheet pan, lay out bread for each sandwich, and add a slice or two (to your taste) of swiss to each of the sandwiches. Toast for appx 8 min, until bread is warm and slightly crisp but not hard.
Step 3
Once toasted, remove bread from oven. Add cole slaw to the bare side of bread. Top with corned beef, and add thousand island to top of meat. Add cheesed side to "lid". (I'm specific about the order of ingredients because if you put both wet ingredients next to each other, you'll have mushy bread and too much liquid in the same area...this layering method distributes it evenly!)
Step 4
Enjoy! Most people like a tad of crunch to go along side a good sandwich, our favorite with this one is plan lightly salted kettle chips!