Healthy and Easy Egg Roll in a Bowl Recipe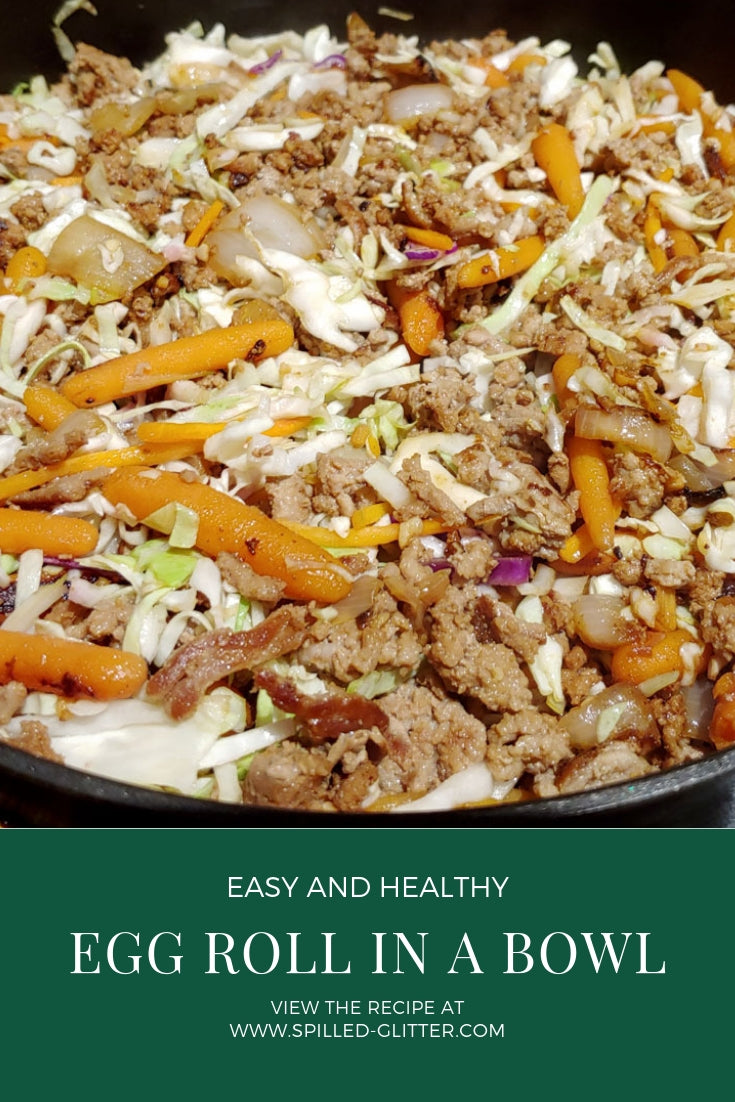 If you're anything like me, you're always on the hunt for delicious, but easy and healthy-as-can-be recipes for dinner. After a long day at the office, the absolute last thing we all want to do is slave over a complicated meal for our family. This simple, healthy, one-skillet meal is sure to please, and will be ready in less than 30 minutes! I recommend serving over rice – basmati is great if you've got it!
I've found that this is also a really great recipe to try if you're trying to kick the take out habit, and eat more healthy meals from home. One of my biggest peeves about take out is how much sodium is in all of the food – which typically leaves me bloated and unable to take my rings off! This recipe contains ground turkey instead of greasy, fatty sausage like most you'll find online, (you can use ground chicken or sliced chicken breast as well) and allows you to control the amount of seasoning and soy sauce – which puts the control over what you eat back in your hands!
For my cost conscious friends, all of the ingredients used in this recipe came from Aldi with the exception of the shredded cabbage, which I found at Walmart. (Some Aldi stores may carry it, I just happen to have purchased ours at Walmart when I bought the ingredients for some delicious corned beef sandwiches!)
If you're wondering what that handy tool is in the photo, it is the OXO Good Grips Ground Meat Chopper and it is my absolute favorite tool in the kitchen! Order one from Amazon for yourself and find out why I love it so much!
Healthy Egg Roll in a Bowl
Print recipe
| | |
| --- | --- |
| Serves | 5 |
| Prep time | 5 minutes |
| Cook time | 20 minutes |
| Total time | 25 minutes |
| Allergy | Soy |
| Dietary | Gluten Free |
| Meal type | Main Dish |
| Misc | Child Friendly, Pre-preparable, Serve Hot |
| Region | Asian |
Ingredients
1lb Ground Turkey
1 Small White or Yellow Onion (Diced)
1 cup Petite Baby Carrots
1/2 bag Cole Slaw Shredded Cabbage
1/2 tablespoon Ground Ginger
1 teaspoon Minced Garlic
1 teaspoon Grape Seed Oil (*May be substituted for vegetable or coconut oil)
2 tablespoons Low Sodium Soy Sauce
Directions
Brown Ground Turkey
Step 1
Peel and dice the onion. Drizzle a large skillet with oil, and add onion, carrots and turkey. Cook on medium heat until turkey is browned.
Add Seasonings and Cabbage
Step 2
Add ginger, garlic, and soy sauce, stirring to distribute evenly. Once turkey is browned, add cabbage and stir just until it is wilted - about 2-3 minutes.
Enjoy!
Step 3
Serve over white rice or inside lettuce cups.