Homemade Restaurant Style Salsa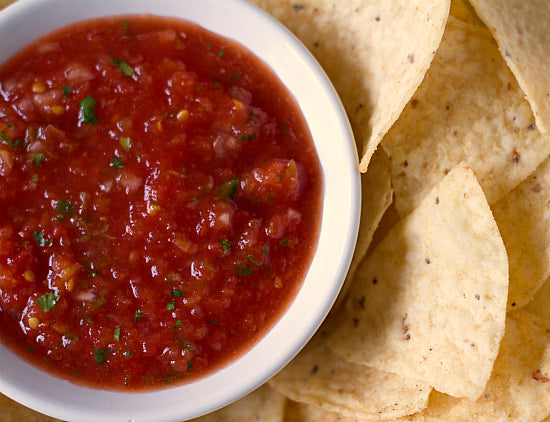 Homemade Restaurant Style Salsa
I can admit it, I am an absolute sucker for any kind of mexican food. Luckily, chips and salsa isn't SO bad for you!
Here's a great homemade Restaurant Style Salsa recipe from The Brown Eyed Baker! ~Enjoy
Homemade Restaurant Style Salsa
Print recipe
Ingredients
28-ounce cans whole tomatoes (peeled) with juice
2 10-ounce cans Rotel (diced tomatoes with green chilies)
¼ cup chopped onion
1 clove garlic, chopped
1 jalepeño, quartered and sliced thin
½ cup cilantro
Juice from ½ a fresh lime
¼ teaspoon salt
¼ teaspoon granulated sugar
¼ teaspoon ground cumin
Directions
Step 1
Add all ingredients to a food processor. Pulse until you get desired consistency (was about 10 pulses for me). Refrigerate for at least one hour, and then serve with your favorite tortilla chips.