Easy Mini Margarita Cupcakes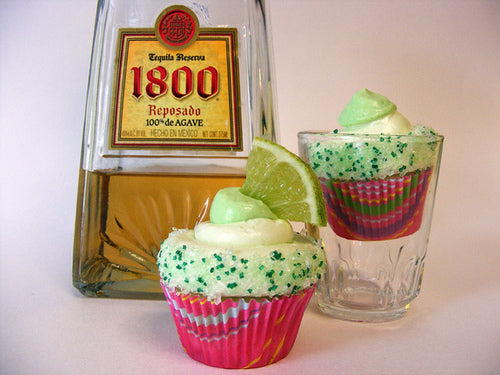 Easy Mini Margarita Cupcakes
I'll admit it – I'm obsessed with liquor flavored cupcakes! But hey, a woman should have her liquor and eat the cupcake too! Found this great recipe for margarita cupcakes on the blog How to Eat a Cupcake, and I absolutely love it! It's especially better than others I've found because you can use a cake mix instead of mixing the cake batter the old fashioned way! ~Enjoy!
Easy Mini Margarita Cupcakes
Print recipe
This super easy margarita cupcake recipe is made with cake mix, so you don't have to whip it up from scratch, courtesy of How to Eat a Cupcake 🙂 Let us know how you like it!
Ingredients
Cupcakes
1 packet (18.25 ounces) white cake mix (no pudding in the mix)
1 can (10 ounces) frozen Margarita mix thawed (undiluted)
3 Egg Whites
2 tablespoons vegetable oil
1 tablespoon lime zest grated (about 1 lime)
Margarita Swiss Meringue Buttercream
5 Egg Whites
1 1/4 cup granulated sugar
Pinch of salt
2 1/2 sticks unsalted butter, softened but cool
2 tablespoons tequila
Zest and juice of 1/2 a lime
Directions
Cupcake Steps
Step 1
Preheat oven to 350° F. Line standard muffin pan with baking cups.
Step 2
In large bowl, combine cake mix, Margarita mix, egg whites and vegetable oil using electric mixer (30 seconds on low, 2 minutes on medium). Stir in lime zest; mix completely. Fill prepared pans 2/3 full.
Step 3
Bake 22-24 minutes (about 12-14 minutes for minis) or until toothpick inserted in center of cupcake comes out clean.
Cool in pan on cooling rack 5-8 minutes. Remove cupcakes from pan; cool completely.
Margarita Swiss Meringue Buttercream
Step 4
Put egg whites, sugar, and pinch of salt into the top of a double boiler over a pan of simmering water. Whisking constantly, cook until sugar has dissolved and mixture is warm (about 160 degrees).
Step 5
Pour heated egg whites into the bowl of an electric mixer fitted with the whisk attachment. Beat egg white mixture on high speed until it forms stiff (but not dry) peaks. Continue beating until fluffy and cooled, about 7 minutes.
Step 6
Switch to the paddle attachment. With mixer on medium speed, add butter two tablespoons at a time, beating well after each addition. Increase speed to medium-high; continue beating until frosting appears thick, about 3 minutes. Reduce speed to low; add tequila, lime zest, and juice and mix until incorporated.