Egg Free Strawberry Banana Muffins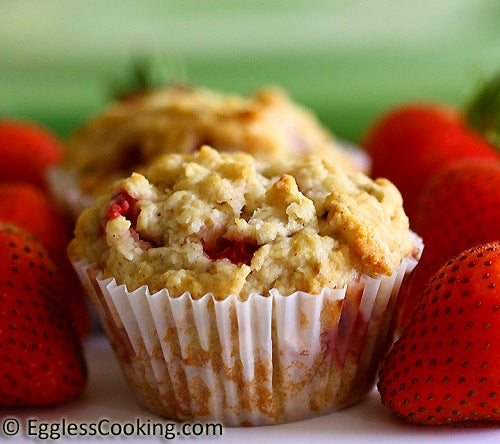 I stumbled upon this recipe today while trying to figure out what to do with some VERY ripe bananas and some strawberries that were about to go bad. Enjoy!
Banana Strawberry Muffins
Print recipe
| | |
| --- | --- |
| Serves | 12 |
| Prep time | 20 minutes |
| Cook time | 23 minutes |
| Total time | 43 minutes |
| Allergy | Egg |
| Dietary | Vegan |
| Meal type | Bread, Breakfast |
| Misc | Child Friendly, Serve Cold, Serve Hot |
| Website | EgglessCooking |
Overripe bananas is not at all a problem in our house. In fact I deliberately leave some bananas to become mushy to bake my family's favorite vegan banana bread and chocolate banana cake. This time I wanted to try something little different as I had some leftover strawberries too. The strawberries were not enough to make something just out of it. So I went to my favorite website and found this recipe for some gorgeous strawberry banana muffins. I didn't think twice before deciding to bake it because I knew that it will definitely be good and sure it was. With some more sugar, the muffins would have been just perfect. Read More: http://www.egglesscooking.com/2011/09/12/strawberry-banana-muffins-recipe/
Ingredients
1/2 cup Melted Butter
1/2 cup Plain Yogurt ((Instead of 2 Eggs))
1 teaspoon Vanilla Extract
1 cup Bananas (Mashed (About 2 Large Bananas))
1 cup Strawberries (Chopped or Blended )
2 1/4 cups All Purpose Flour
3/4 cups Brown Sugar
1 1/2 teaspoon Baking Powder
1/4 teaspoon Baking Soda
1/2 teaspoon Cinnamon
1/2 teaspoon Salt
Directions
Step 1
Preheat the oven to 350F/180C for 15 minutes. Line a muffin tin with paper liners and spray it lightly with non stick cooking spray.
Step 2
In a small saucepan melt the butter and set it aside until it cools down to room temperature.
Step 3
In the meantime stir together the yogurt, mashed bananas and vanilla extract. To this mixture add the butter when it is completely cool.
Step 4
In another large bowl mix together the rest of the dry ingredients from flour to salt. Toss in the berries too. Make sure that all the berry pieces are coated with the flour mixture so that the fruit does not sink to the bottom of the muffins.
Step 5
Add the wet ingredients to the dry ingredients and stir until just combined. Do not overwork the batter or else the muffins would become dense.
Step 6
Fill each muffin cup with the batter using an ice cream scoop. Even though the original recipe is for 12 muffins I was able to get only 11 muffins.
Step 7
Bake it for about 20-25 minutes or until a toothpick inserted in the center of the muffin comes out clean. Mine was done in about 23 minutes.
Step 8
Remove the pan from the oven and place it on a wire rack for the muffins to cool before you could remove it from the pan. If using paper liners you should be able to take out the muffins within 10 minutes.