Winter Bucket List - 50 Things to Do This Winter while Socially Distanced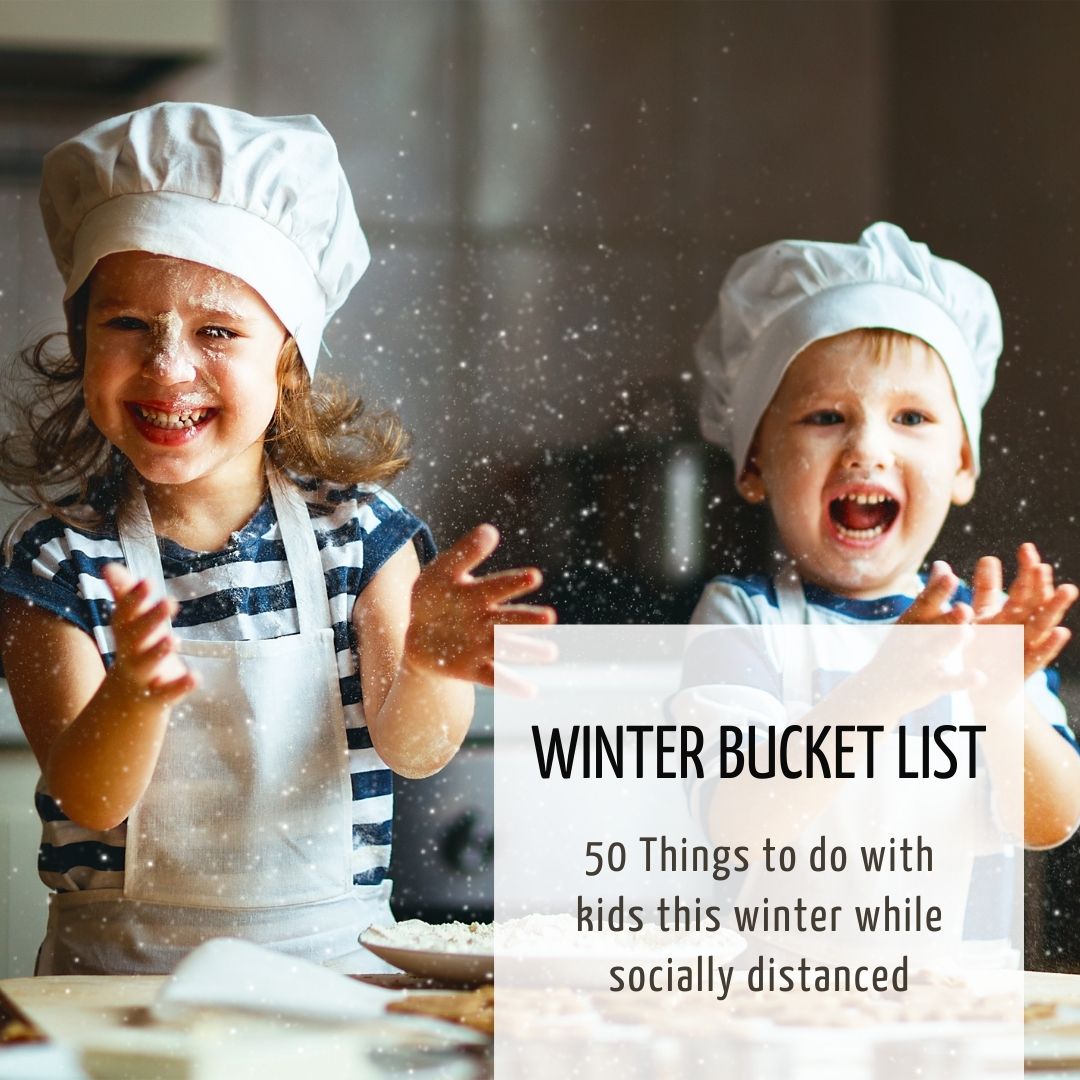 This winter might turn out to be especially difficult, being that we are all still trying to socially distance ourselves, and many events and public spaces are remaining at either limited capacity or are still not open. With less events, and limited available activities, I thought it would be nice to put together a Winter Bucket list of 50 things to do with children while socially distanced this winter. Have some ideas? I'd love to hear! Share them in the comments!
50 Things to Do this Winter While Socially Distanced
Make Christmas Cookies - what are everyone's favorites?
Write Thank You/Holiday notes for the Mail Man and Garbage Collectors
Have a Family Game Night, complete with a snack tray and simple but fun prizes
Make your own Christmas Tree ornaments
Learn about how other religions celebrate the holidays
Create a Christmas Treasure Hunt
Write Thank You notes to your teachers
Wrap presents together
Make popcorn garland
Make a list of everything GOOD that has happened this year
Volunteer at a local shelter, church or food kitchen
Make a birdfeeder with a toilet paper roll, peanut butter, and birdseed
Round up unused toys, clothes you aren't wearing, unused school supplies, and anything else you can think of - donate to children's home or a shelter for recovering women and mothers
Go pet the animals at a local shelter (put together something to bring them too, like blankets and towels, kibble, toys, etc!)
Call a relative you haven't talked with in a long time
Make paper snowflakes
Play Christmas Trivia

Make your own Christmas Cards
Have a movie night and camp out under the tree
Make hand print salt dough ornaments - click here for instructions and recipe

Drive through the neighborhoods to see Christmas lights, use this fun scavenger hunt
Make a gingerbread house
Play Guess that Christmas Movie Quote using this printable

Make care packages for deployed soldiers
Write a letter to someone far away
Have a drawing/coloring contest - Here's a fun page to color!

Make your own hot cocoa
Paint rocks to decorate your landscaping
Go ice skating
Have a Christmas Movie Marathon
Make a puzzle together
Play Christmas Charades - Here's a great game you can print
Research arctic animals and bird migration patterns
Learn how to say Merry Christmas in different languages
Play pin the nose on Rudolph using a piece of box or cut paper bag and make a red nose using a pom pom or red construction paper
Make your new year's resolution lists
Complete a 12 Days of Christmas Quiz like this one!

Write a good bye 2020 letter
Bundle up and take a nature hike at a local park
Make a time capsule and bury it in the back yard
Hide candy canes outside around the house and have a candy cane hunt
Make funny snow globe ornaments using jars or clear cups and everyone's photos like these

Make homemade chicken noodle soup
Do a Christmas Word Search - here's a great one!

Host a zoom dinner party with friends.
Do a science experiment for fun and document the results
Have an indoor "snowball" fight with fluffy poms or stack solo cups and try to shoot the "snowballs" at the cups to knock them down (use clean rolled socks if you don't have poms!)
Play "Snowball" Transfer game with cotton balls and a straw (here's how!)
Do winter mad libs like these: Santa Claus and Mr. Snowman
Do a Christmas word scramble - here's a great one! 
Lastly, enjoy every moment together!!