Lettuce Wraps - Just Like PF Chang's!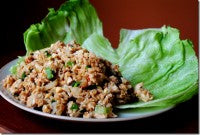 My husband and I are always looking for fun and different things to eat for dinner. Since doing our 6 week body makeover diet, we pay attention to all of the little things, like sodium, fat content, sugar, (and everything else tasty and fun). You'd be amazed at how much sodium you "should" eat, vs. how much is in the foods we eat everyday! (try looking in your pantry, and considering that if it has more than 200mg per serving, it's not good for you. You'd probably end up throwing everything away!) Since everyone thinks diet food is terrible, I thought I'd share this recipe that I found on pinterest from Iowa Girl Eats. I modified it to fit within the constraints of our "lifestyle", but feel free to use variations and substitutions as you please! They are DELISH!
Lettuce Wraps – Just Like PF Chang's!
Print recipe
| | |
| --- | --- |
| Serves | 2-4 |
| Prep time | 15 minutes |
| Cook time | 20 minutes |
| Total time | 35 minutes |
| Dietary | Gluten Free |
| Meal type | Appetizer, Main Dish |
| Misc | Freezable, Pre-preparable |
| Region | Indian |
| Website | Original Recipe by Iowa Girl Eats |
Original Recipe writer says: "P.F.Chang's Lettuce Wraps – I am telling you – salty, greasy, PERFECT. If you've ever had them, I bet you'll agree. But sometimes they can be a little too greasy, know what I mean?" She is so right! They are delish, but I can't stand not knowing what is in them that makes them so greasy!
Ingredients
1lb Ground Chicken (For a healthier option, use 3 chicken breasts, cooked in a skillet, and then shredded in a food processor.)
1/2 Onion (White or Yellow)
1 dash Salt & Pepper (Just a dash to season the chicken)
1 teaspoon Garlic (Minced)
1 teaspoon Ginger Powder
1 tablespoon Coconut Oil
2 1/2 tablespoons La Choy Teryiaki Ginger Marinade ((lower in sodium than traditional taryiaki sauce!))
1 tablespoon Red Curry Paste ((or more if you like it hotter))
3 Green Onions (Chopped)
1/2 can 8 oz Water Chest Nuts (Drained)
1/2 Red Bell Pepper (Diced)
1/2 Green Bell Pepper (Diced)
6 Outer Leaves of Romain Head of Lettuce
Note
I modified this recipe from the version I found online. If you would like to view the original version, visit the Iowa Girl Eats website here.
Directions
Step 1
Heat a large, non-stick skillet on high. (use coconut oil if you are not using a non stick skillet) Add chicken, 1/2 of onion, salt & pepper, and cook until chicken is nearly done, stirring often to break up the meat. Add in minced garlic, green onions, and ginger powder, and continue cooking until chicken is no longer pink. If using chicken breasts instead of ground chicken, chop the cooked chicken breasts into strips, and put in your food processor for a few seconds to "grind" it.
Step 2
In a separate skillet, sautee green pepper, red pepper, water chest nuts, and remaining onion in coconut oil until the peppers become tender.
Step 3
Add pepper mixture to chicken pan, and simmer on low, mixing the peppers through the chicken. Add in the La Choy Teryiaki Ginger Marinade & Red Curry paste, and stir until mixed. Cook until everything is heated through.
Step 4
Pile the mixture onto lettuce leaves like a boat, and enjoy!