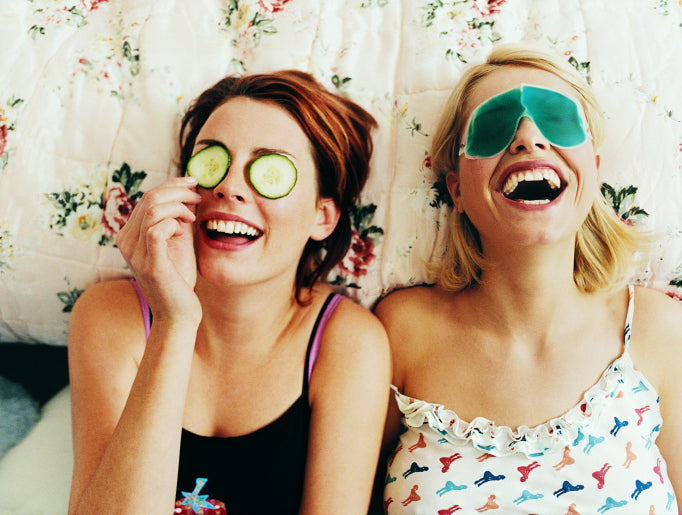 My Favorite Beauty Tips
At one point in my life I actually considered myself somewhat of a "Product Whore" because the second I learned about a new beauty product or treatment, I ran out to try it. I started stressing out about wrinkles at 23 years old, tried glycolic peels, scrubs, rinses and wrinkle creams at an early age thinking I could prevent the inevitable… none of which really did anything because of course you can't erase time. Everyone has something to say about how you should and shouldn't use beauty products, how you should clean your skin, etc. and while I'm not a certified beauty expert, I do have a list of my favorite products, tips and tricks that work wonders for me!
1. Nothing Rhymes With Astringent
No really, can you think of anything? If you don't have extremely oily or acne prone skin, it's time to ditch the alcohol based astringent. It's doing nothing good for your skin! The alcohol in most astringent serves as a drying agent that can cause your skin to actually over produce oil to compensate for what you've stripped away. Shocked? I was when I figured this out! If you're still stuck on swiping your face with a cotton ball soaked in something post-wash, try a non-drying option like witch hazel, which is a natural cleanser with healing properties. I prefer Dickinson's Witch Hazel, which is gentle and formulated for your face.
2. Wash Your Face
Don't just "Wipe your face" WASH your face before bedtime! Using those "On-the-go" easy face wipe towelettes is great for post-workout at the gym, but is not a substitute for washing your face before bed. Turns out that without an actual rinse, you could be leaving tons of dirt on your face! If you're lazy at bedtime like me, and the idea of wet elbows and sleeves is not appealing to you, try a gentle cleanser that doesn't require a full blown splashy rinse cycle. My favorites are Cetaphil, because you can use it to remove your eye makeup without the fear of the face wash sting in your eyes, and Clinique's Comforting Cream Cleanser, which doesn't leave your skin feeling tight and dry after washing. Neither of these require a full sink splashing rinse.
3. Stop Stressing Over Cellulite!
Let's face it girls…we all tend to look a bit like we've been hit with the dreaded Bag O' Nickles if we sit or cross our legs in the wrong position. So why do we spend so much time and money trying to change an element of our body that there is no proven way to change? (For more information on what cellulite really is, treatment methods, etc. click here.) The only REAL proven way to get rid of cellulite is to reduce the amount of fat in those areas of your body…aka Diet & Exercise. Instead of worrying so much about cellulite, we should all start paying more attention to our veins! I have a client (with my "day job") that is a Veneous Surgeon, and I'll have to admit that up until I'd met with he and his wife, I never gave my veins a second thought. Since I've been working with them though I've learned a tremendous amount about how our veins actually function, and the fears of such conditions as DVT, or Deep Vein Thrombosis, where blood clots in the deeper veins of your legs can break loose and travel to the lungs (this can be fatal). DVT is often a silent killer and usually goes untreated. The easiest way to recognize if you are at risk for DVT is to recognize changes in your veins, such as varicose veins, and routinely get screened for DVT. Many clinics offer free DVT screenings during the month of March if you meet certain risk factors. Learn more by clicking here.
4. Go Dirty!
Do you have dry, brittle, frizzy or damaged hair? Want to know the secret to keeping your shine and color longer, or are you trying to grow your hair out? I have a few words of wisdom for you…Ask Your Grandmother! Back in her day, she probably only washed her hair every few days, and she was right to do so! Studies show that our hair is actually not meant to handle some of the chemicals in modern shampoos as regularly as we subject our locks to it. There's a reason that old saying "I can't, I'm washing my hair tonight" was made popular…because we gals used to be smarter about our hair care! Dermatologists and stylists agree that there's little reason to shampoo every day, so why should you waste that precious time? I highly recommend finding a good dry shampoo, (I like Garnier Volume Extend Instant Bodifier Dry Shampoo) and planning out your hairstyles in a way that allows you to maximize washes and heat treatments. This will ultimately result in healthy, shiny locks girls! Here's my weekly routine for a bit of help getting started:
Monday: WASH DAY – Blow dried and lightly flat ironed – worn down.
Tuesday: SKIP DAY – Dry Shampoo and lightly flat ironed or curled – worn down.
Wednesday: SKIP DAY – Dry shampoo as needed and on bangs and lightly styled in place – worn up.
Thursday: WASH DAY – (repeat above through the weekend!)
5. Razor Burn? Go for the Gold!
Does anyone out there know what razor burn ACTUALLY is? There is a difference between razor BURN and razor BUMPS. Razor burn is when you've irritated the skin in some way during the shaving process. Typical ways to avoid this include making sure you shave in the direction of the hair growth, and using a clean, sharp razor. Razor BUMPS are actually ingrown hairs. Easy way to prevent both? Ditch your shaving cream and instead lather up with original Dial anti-bacterial soap when shaving. The anti-bacterial properties in the soap will help eliminate the unwanted bacteria that often causes razor BUMPS, and the rich lather will help your razor glide smoothly across your skin. Remember, don't double stroke it! 😉 One glide per "line" will do ladies – anymore and you're likely to cause irritations! If you do get these irritations, they are best treated with a hydro-cortisone cream or coconut oil. (
6. Get Some SUN
Dermatologists and the FDA have been slightly lying to us for years! As it turns out, our skin and bodies NEED to see some sunshine in order for your body to produce crucial Vitamin D. An article published in the Huffington Post recently states that "America May Have The Science Of Sun Exposure All Wrong"! We actually need approximately five to 10 minutes of direct sunshine two to three times per week – that means UN PROTECTED SUN EXPOSURE! And studies further showed that "People regularly exposed to daily sun have a lower risk of getting melanoma and also have a higher survival rate if they do." So go, get out girls, enjoy a few minutes in the sun! Think I'm crazy? Read the Article Here.
7. Acne Prone Skin? Large Pores? Need a Facial? Grab the Aspirin!
Don't call me crazy till you at least try it. Aspirin actually contains very high amounts of Salicylic acid, which is a proven exfoliate and anti-inflammatory treatment. When used on skin, it works by opening clogged pores and neutralizing bacteria within, preventing pores from clogging up again by constricting pore diameter, and allowing room for new cell growth. Make an easy Aspirin mask by holding 3-4 un-coated Aspirin in your hand and adding a few drops of water. Let the Aspirin turn into a gritty paste and massage onto your face for 2-3 minutes. Allow to dry (it will be weird and flaky) and rinse off. This is much easier to do while you are in the shower. Apply to your face and leave on while you go about the rest of your shower routine, rinse before you get out. You're welcome!
8. Learn How to Blow Dry Your Hair
I recently read an article that featured one of my favorite "Hair Role Models" and found out something amazing…The Most Famous Hairstyle in America, worn by one Ms. Jennifer Aniston, had a bad hairstyle that resulted from her not actually knowing how to blow dry her own hair. She now claims to use three different brushes. A big
round brush, a medium round brush, and a Mason Pearson. While I think using three brushes may be a bit excessive, when I count out my own routine I actually use two brushes and my fingers in specific spots – count it – Three. The routine for a great blow out? Wash your hair, then put a blow dry cream or spray in (I am in LOVE with Loreal Boost it Blow Out Spray), and then dry it for a while till it is just damp. Shape it around your face with a flat or round brush, then go into the crown and give that a root boost with a big round brush, twist it or curl it or do different things depending on the style you are looking for. Every day it's a different thing.
9. Everything Will be Fine with a Little Chapstick & Mascara
I generally believe that it takes minimal effort, with maybe a few small "improvements" to make any woman feel more "put-together", and everyone has their special something that they just can't leave the house without. (No, I'm not talking about your cell phones!) I don't have perfect skin – not even close, I wake up with messy hair, mangled eyebrows, I'm usually pretty pale, and my eyelashes are two different colors! So what does the trick for me? Chapstick and Great Mascara! My eyes are quite large, so I tend to look a bit tired if I've somehow managed to leave home without my trusty mascara – and yes, I'm a snob about which one! I like Cover Girl's Professional Super Thick Mascara in VERY Black and Clinique's High Impact Mascara in Black. And a REAL brush is a must for me. None of that synthetic or plasticy rubber crap that just causes clumps! As for the chapstick? When I was very young, I started this terrible habit of picking dry skin off my lips, because I couldn't stand the feeling of scratch lips…and yes, at my worst I still have that very same unfortunate habit. However, when I use my favorite lip balm, Baby Lips® Dr. Rescue™ in clear peppermint, my lips are silky smooth and taste great!
10. Moisturize Your Cleavage
I think this may be the most important tip of all. Have you ever seen a beautiful woman, maybe in her early 50's who has managed to keep it all together and looking great, only to realize her cleavage looks like the grand canyon dried up on her chest? Unfortunately this has a lot to do with moisturizing, sun exposure, and the position we sleep in. It's unfortunate that cracky boobs will eventually hit us all, but you can do a little bit of pre-damage control by making sure that anytime you put moisturizer on your face, you move down your neck and cover your chest with it as well. The neck area is just as important, as it will get lines and creases where you hold your head the most often. I don't have a favorite moisturizer for this, just use whatever you use on your face daily (non-drying!).